About Us | Onlia
About Onlia
How we're working to make Canada a safer place for everyone
Our company
Onlia launched in Ontario in 2017 with the mission to improve community and road safety for all Canadians. We believe that life is better when we're safer together – and that just one serious accident or vehicle collision is one too many.

We started as a small team with a big dream. Today, we offer a suite of digital safety products that make it easier for you to live safely, and reward you along the way. This includes car and home insurance, vehicle roadside assistance, and Onlia Sense, the mobile app that helps you develop safer driving habits by rewarding your progress with gift cards and cashback.
Our mission
Road safety isn't just an individual responsibility. It's a public health issue that affects all of us.
In Ontario alone, someone is injured every 30 minutes due to distracted driving*. Across the country, fatal collisions involving drivers, cyclists, and pedestrians number in the thousands year after year. This isn't a status quo that we think is acceptable.
At Onlia, we believe that the best way to change things for the better is to make safe-living easy and rewarding – from proactively coaching and rewarding safer driving behaviours, to offering insurance protection when bad days happen.
Everyone deserves to get home safely, every time. Together, we're making that vision a reality.
*Ontario Ministry of Transportation
**Canada's Road Safety Strategy 2025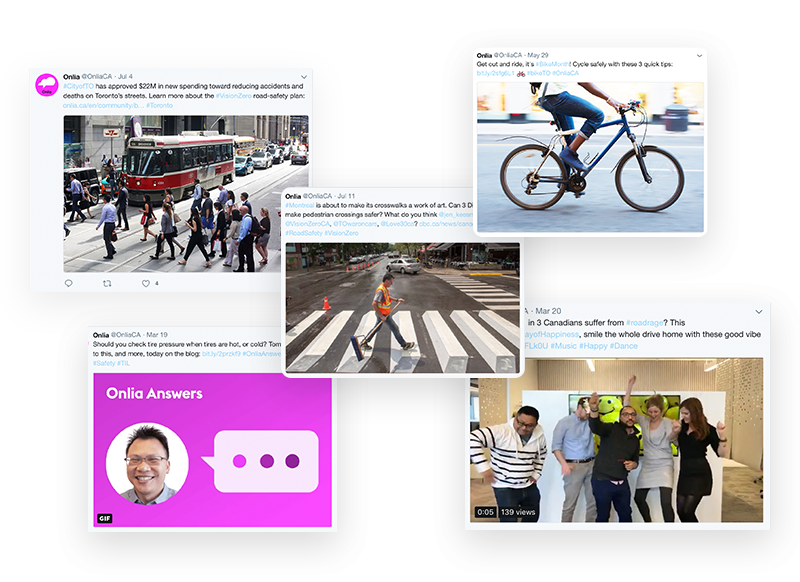 About our insurance partners.
Our Canadian and global partners have over $200 billion in assets and 200 years of experience. Onlia may be a new company, but you can rest easy knowing we're backed by titans of insurance and finance.
Commission disclosure
Under the terms of our MGA, Onlia Agency Inc. is compensated in part by commissions paid from Verassure Insurance Company for the distribution and maintenance of its insurance products. In Ontario, this amounts to 15% of home and auto insurance policy premiums. In addition to the commissions, Onlia Agency Inc. is also entitled to profit sharing based on the profitability of the underwriting account. This is dependent upon several factors including the profitability and growth of the business placed.