How Will COVID-19 Change the Way We Move?
As Canadian cities begin to reopen, we look forward to what the world will look like post-COVID.
Right now, there is a high likelihood that the COVID-19 pandemic has impacted your life in some way. Businesses, schools, and lives have all changed as the world unites, committing to saving lives by staying home. With this brings immense change and adaptation as communities try to understand how COVID-19 changes our everyday life.
While leaders work to define the future amongst shifting sands of the pandemic, we are closely watching the impacts on transportation. As it all unfolds, it begs the question: How will COVID-19 change the way that we move?
COVID-19 response
2020 brings a world that is connected on every level ­— from the internet to mobile devices, from municipal transit to air travel criss-crossing the globe. This interconnectedness served as a catalyst for COVID-19, allowing the coronavirus to rapidly spread around the world from China, the pandemic's ground zero. The country's early response of shutting down travel — particularly around major Chinese holidays – initially seemed aggressive, but is now credited as an early prevention measure.
Countries around the world have followed suit, restricting travel and encouraging social distancing. Some are very directive about mandatory lockdowns, while other nations are appealing to a sense of camaraderie, seen in Canada's invitation to #flattenthecurve. Increasingly, work-from-home models have seen non-essential businesses operating exclusively through telecommunications, if they haven't had to close entirely.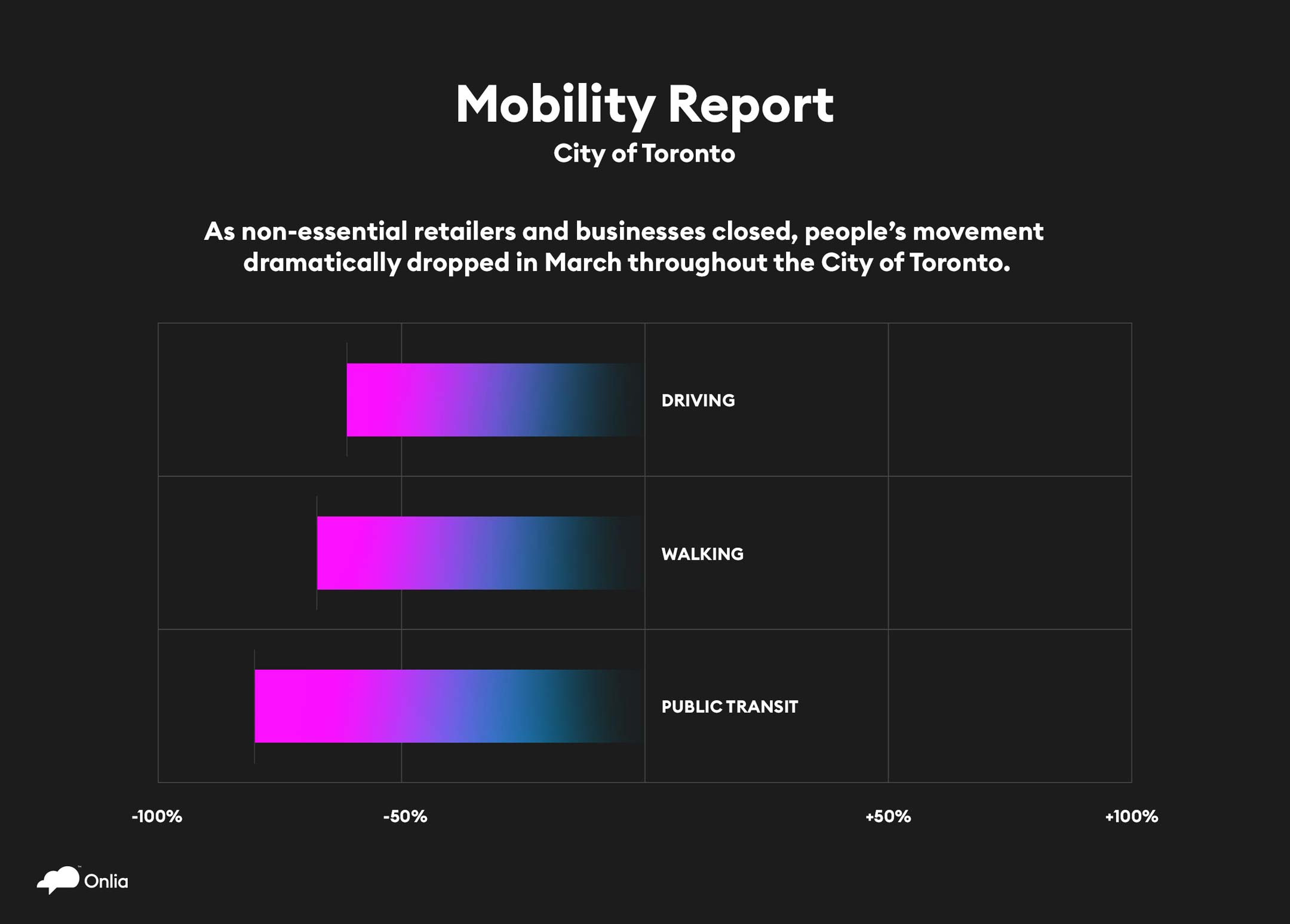 Source: Apple
When everyone stays at home, what happens to transportation?
Safe driving is essential in COVID containment
The concepts of social distancing and curve flattening are new to most, and people are trying to decipher what it means and how to live amidst new regulations and rules. Regardless, the intent is clear; to reduce the load on the healthcare systems, Canadians need to slow the progression of the virus by staying home and staying healthy.
One of the best ways to ease up on healthcare? Drive carefully and prevent road-related injuries. While public health agencies are shifting their focus to COVID-19 prevention and management, the responsibility for road safety diligence rests with the public — the devastating impact of transportation collisions may strain all healthcare resources, including personnel, protective equipment, and hospital space.
Ripple effects through transit
Transportation has been rapidly evolving throughout the COVID-19 response, with shifts from public transportation to private options like rideshares or personal vehicles, or increases in active transportation — as seen in growing cycling communities as more people choose to cycle overcrowded subway systems. Early changes to transportation modalities and routes, as well as increases in congestion, foreshadowed the impact COVID-19 may have on how we move.
Current government social distancing mandates now have most of us staying home, except to stock up essential supplies. Early reports suggested that only one in six Canadians were leaving their neighbourhood and Toronto's subways have seen ridership dive by 80%. Vancouver's regional public transit agency is reporting $2.5M in losses every single day, while the Toronto Transit Commission has posted up to $20M in losses per week.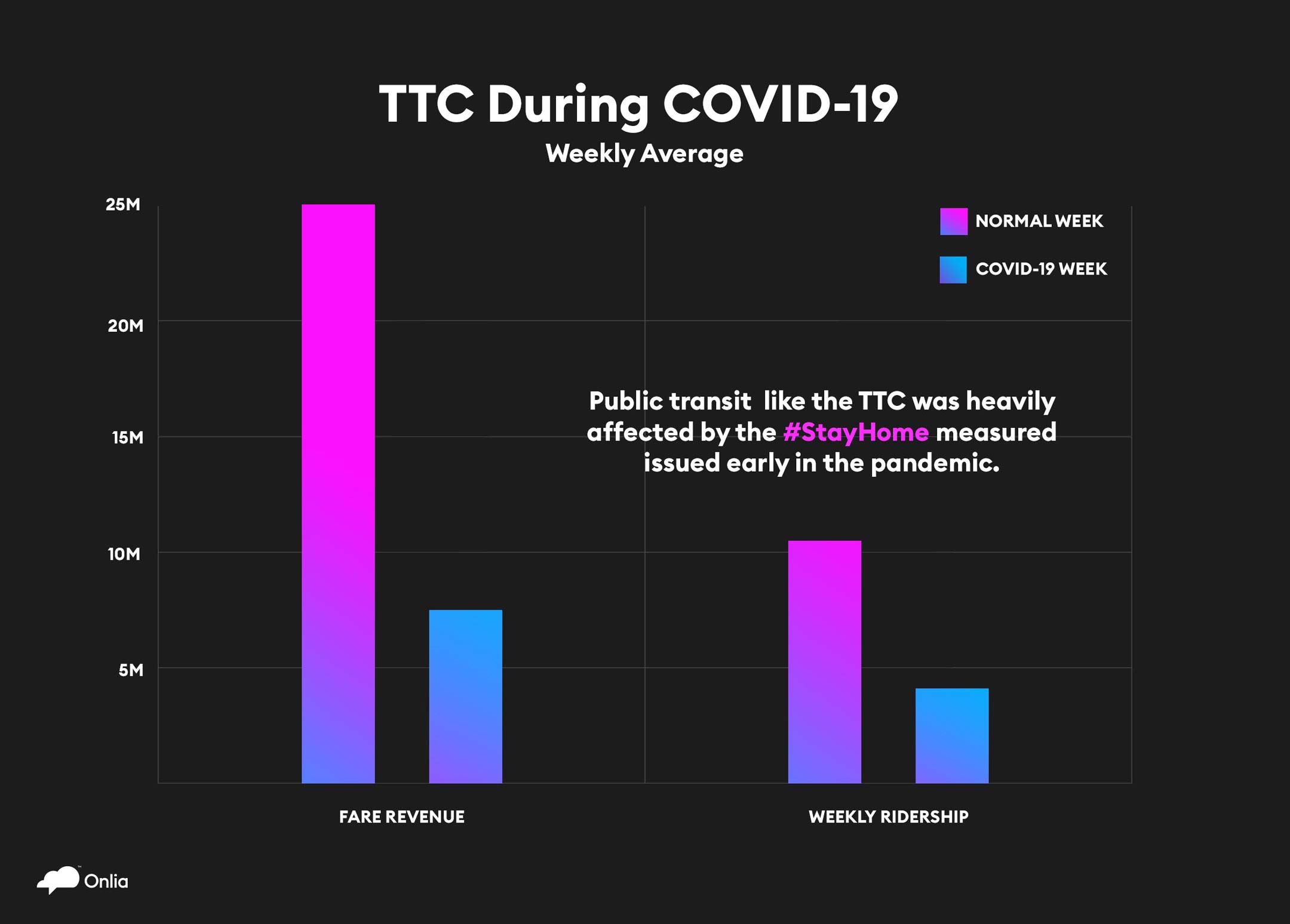 Source: Twitter
Speeding and street racing on the rise
Without urban congestion, road speed continues to climb as drivers are freed from gridlock. During the first two weeks of Ontario's state of emergency (March 15-31, 2020), Toronto Police Services cited 2,727 speeding offences, up 35% from comparable 2019 statistics.
For some, the wide-open highways are too tempting to avoid. Enforcement agencies are reporting numerous cases of street racing, with drivers using public roads as their own private racetracks. In March, Toronto Police Services reported that ticketing for street racing, with speeds 50 km/h over a posted limit, has increased nearly 200%, when compared to this time last year. Similarly, York police saw a 60% increase in ticketing for street racing.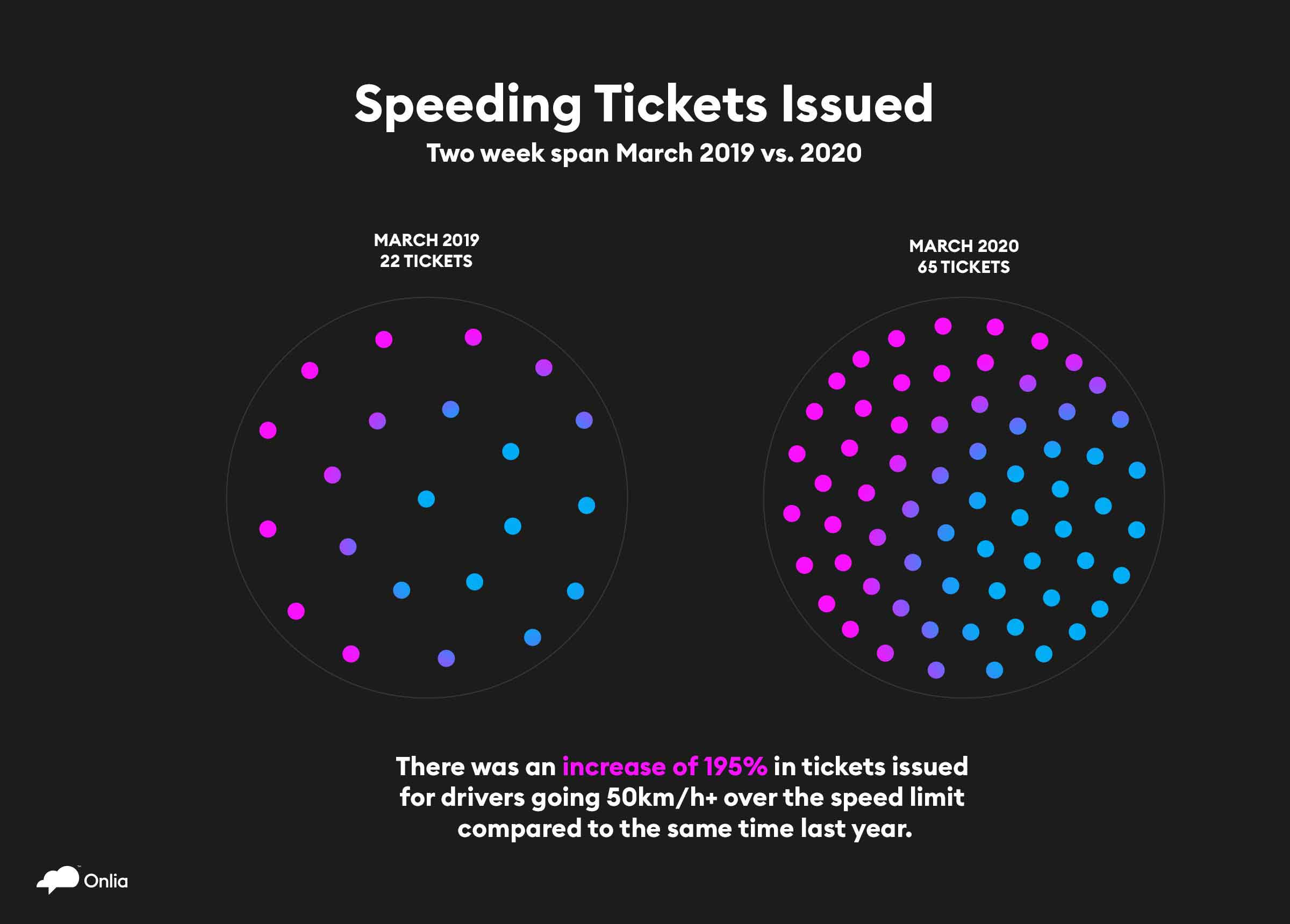 Source: CTV News
Across the border, the story is similar. COVID-19 isolation has left an open road for the Cannonball Run, a high stakes challenge to race from Manhattan to Los Angeles. Unsanctioned, the challenge just saw its latest record: less than 27 hours to race across the United States. While the drivers and their crew are celebrating anonymously, enforcement agencies around the world are concerned about the rise of unbridled speeding and reckless driving due to the pandemic.
LIKE THIS ARTICLE?
Subscribe & get more from Onlia
Sign up for our newsletter and get our best stories delivered to your inbox.
Traffic patterns shift
Early data sets from various sources agree on one thing; vehicle use is dropping, as people stay safe and stay home. Onlia Sense™, the safe driving app for all, has reported a decrease of 70% in trips taken since March 1st, as users commit to a different type of safety — staying at home.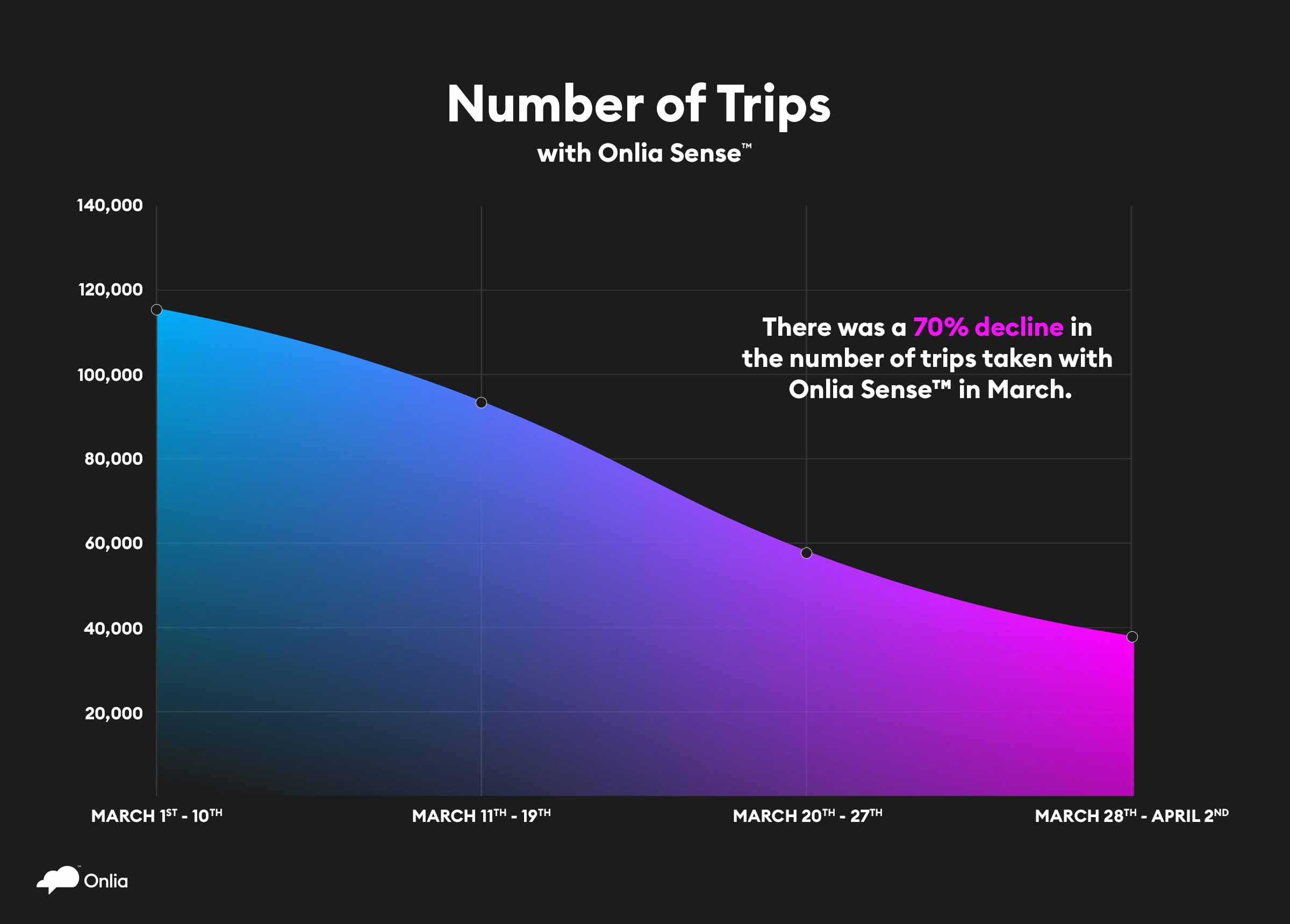 Source: Onlia Sense
A mobility report from Apple concurs, with evidence of declines in major city centres around the world across all types of transportation, including driving, walking, and transit. The University of California Davis investigated the impacts of COVID-19 on California road crashes since the state's shelter in place order, with early datasets finding that collisions, especially those resulting in injury or fatality, have been reduced by approximately 50%. As the pandemic unfolds, we look forward to more Canadian insights on how mobility is shifting.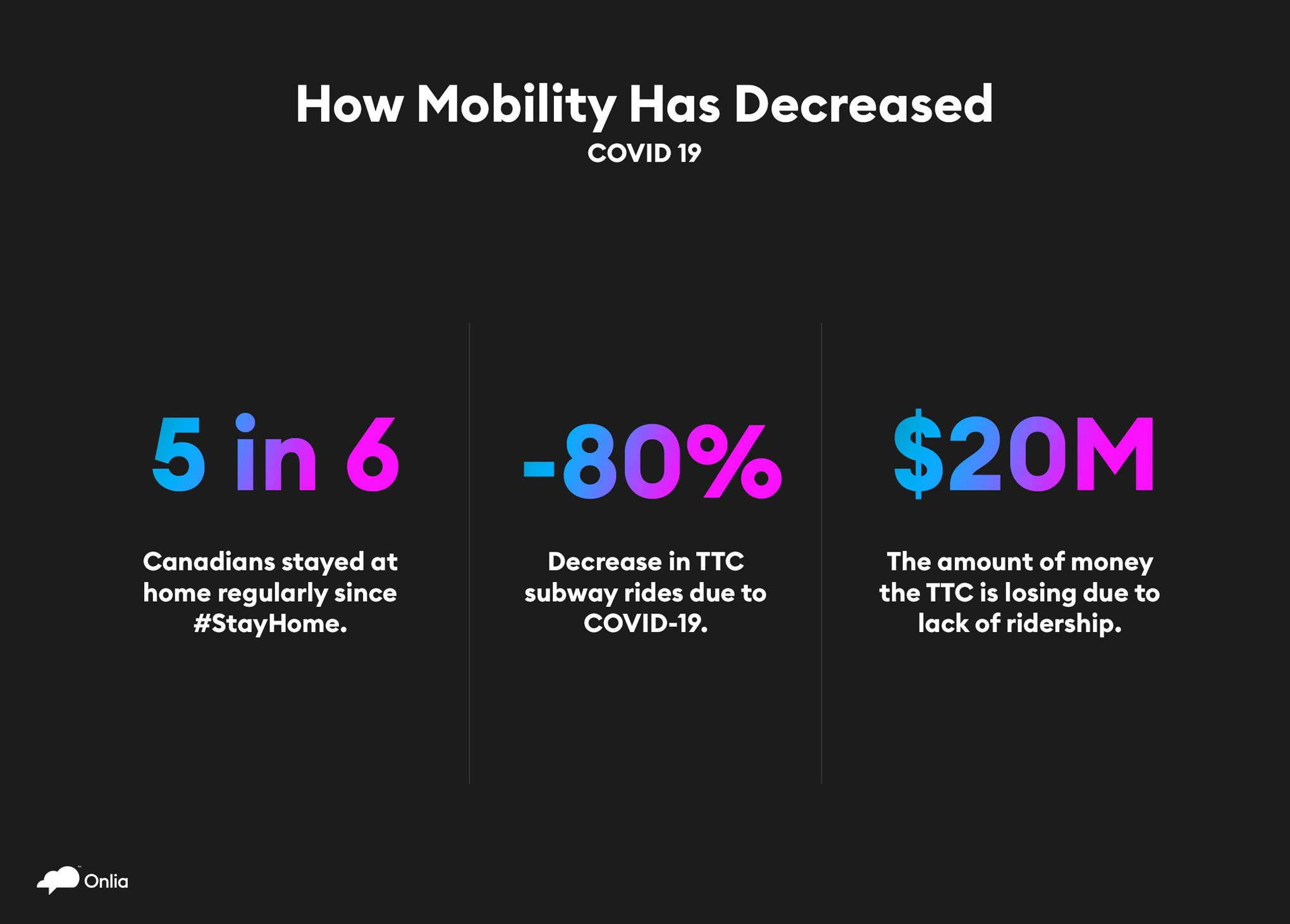 Source: Globe and Mail, BlogTO
COVID-19 has certainly reshaped our daily routine and drastically reduced congestion due to transportation. The United Nations notes there are "visible, positive impacts — whether through improved air quality or reduced greenhouse gas emissions" due to the global shutdowns, but cautions these are temporary gains. The UN is clear that to leverage this progress, there must be long-term environmental strategies, including transportation solutions.
Transportation innovation pivots
Over the last few years, advances in technology and a thirst for innovation have created a thriving transportation startup industry. However, COVID-19 has presented major hurdles, forcing companies to rethink their strategies or face a total shut down.
Loss of investors, slower production, and layoffs have devastated new companies, while stay at home orders have rendered some services, like autonomous taxi services, largely impractical. While some innovative companies have found ways to either pivot, or scale back, the lasting impact of COVID-19 on the transportation innovation industry remains to be seen.
Recognizing the rideshare and taxi industry is still an essential link, companies continue to operate, but under increasing caution. Riders and passengers alike report anxiety over sharing confined spaces, but acknowledge it is a necessary reality. However, decreases in ridership have companies examining alternative revenue models. Uber, the rideshare giant, has launched new services to fill a gap in delivery of retail and personal products, while also providing new opportunities for their driver partners.
Many transportation companies have joined in the fight against the COVID-19, pivoting to delivery of healthcare materials and resources. Navya, an autonomous vehicle company, is using its vehicles as COVID-19 test delivery shuttles at health institutions. Facedrive, a Canadian rideshare company, is offering specialized COVID-19 features, including discounted trips to testing centres and enhanced safety protocols.
Shape of transportation to change
At the time of writing, the COVID-19 response is highly active in Canada and around the world. The repercussions of this virus have been immense, impacting every facet of global society. As a vital lifeline for communities, transportation continues to evolve throughout each new stage of the pandemic as public health directives change how we live and move.
Experts predict a long road to economic and societal recovery. What lies on the other side may look very different than it did before COVID-19, with reimagined transportation solutions, focused support of transit agencies, and increased environmental awareness.
How daily commutes come back, and where we will travel when social distancing restrictions ease remain to be seen. While many questions remain unanswered, one thing is clear: COVID-19 has impacted the future of transportation forever.