Transportation Innovation: A Midyear Report
We update our transportation forecast for the year, and take a look at what's to come.
At the beginning of the year, we laid out predictions for transportation innovation. The one thing we didn't predict? The coronavirus pandemic. Since January, the world has flipped upside down — and with that, the direction of the transportation innovation industry. In normal circumstances, six to eight months is a relative lifetime in technology development, so naturally, we'd expect a lot to change – but adding a major public health crisis? That ups the innovation ante.
The impact of COVID-19 will change the innovation pace and direction for many companies, as they focus short term objectives on economic recovery. Longer-term innovations are experiencing an unprecedented hurdle, navigating a relatively undefined future. We've looked at what to expect, whether you are interested in a new ride, new investment, or the new future of transportation.
Active transportation will be king
The early days of COVID-19 didn't spell a promising future for micro-mobility options, as people stayed home and limited transportation. This slayed analyst's 2019 predictions that micro-mobility would grow to a $300-$500B industry by 2030. However, as citizens began to navigate the COVID-19 pandemic rather than retreat from it, micro-mobility popularity rose, increasing investment odds favourably. Cities implemented comprehensive bike lanes, consumers started to embrace new options, and tech companies focused on the emerging sector.
The uptick in active transportation is not a short-term phenomenon. With bikes consistently selling out across the country, and Ontario's e-scooter pilot launching in the midst of COVID-19, people are opting for active options now more than ever before. Users are also safer than ever before, with Toronto reporting the safest year so far for pedestrians and cyclists in over a decade, potentially in part due to quieter roads and infrastructure improvements. While Canada's winters may be at odds with this newfound fervour, there are indications the trend will stick.
Canada's active transportation revolution has support across the country, notably with Toronto's council approval of additional bike lanes and #ActiveTO street initiatives. E-scooter giant, Bird, launched a pilot project with the City of Ottawa while still in the midst of COVID-19. The Ontario government announced new active transportation infrastructure investments for municipalities. With critics wary that these initiatives are only temporary responses to COVID-19, early measures may pave the way for future extensions and amendments.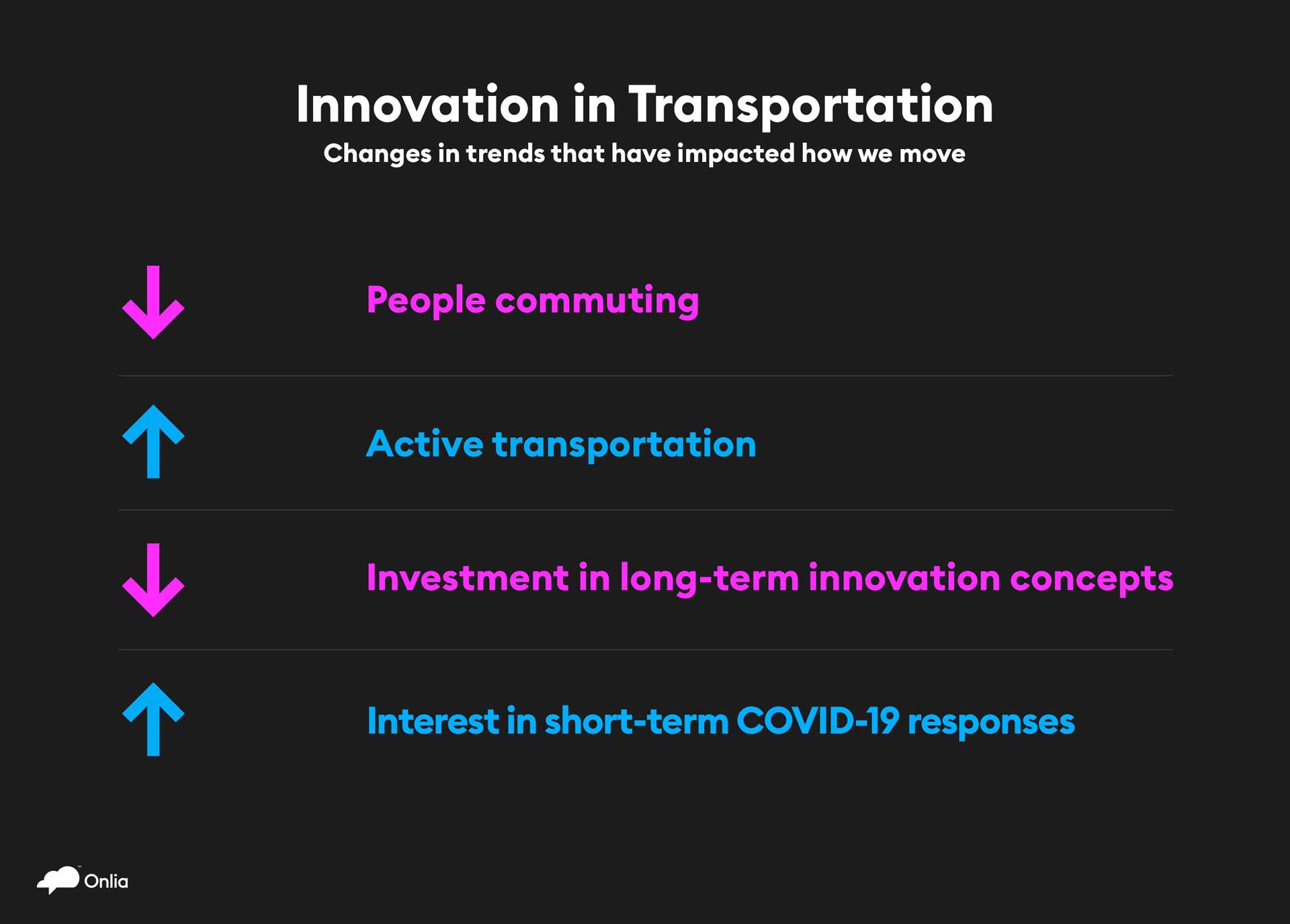 Micro-mobility popularity continues to play out across the border and around the world as well. New York City, historically against e-scooters and e-bikes, announced a two year pilot for Manhattan, allowing app-based sharing models to test the waters. NYC's move came at the right time, as e-scooter company Lime reported that pandemic trips on their devices were 34% longer and 18% further, travelling more through neighbourhoods than tourism hotspots. Eager to land a share of the micro-mobility market, companies and investors are still scrambling to the top. Recent headlines include a war for Parisian e-scooter operating rights, as well as industry investments from start-up heavyweights, such WeWork founder Adam Neumann's play in GoTo Global.
Technology is also innovating with an eye towards surging micro-mobility markets. In support of cycling infrastructure, Google is modifying its mapping software to include more comprehensive bike infrastructure and bike-share docking locations, all in response to a 69% jump in cycling route requests since February 2020. In a bid for sweeter government relations, micro-mobility companies are sharing trip data with municipalities, hoping to inform the development of tomorrow's smart cities.
Autonomous vehicles look different
Autonomous vehicle (AV) development has fallen victim to the short term impact of COVID-19. While visions of self-driving cars whisking people to work may have been your perceived use case for AVs, the contactless environment of COVID-19 has forced the industry to imagine new deployment options largely focused on public deliveries, rather than private transport; a shift that comes with benefits, as commercial application for AVs is a relatively easy way to test technology and win approvals for advancement. Requiring smaller networks, travelling at lower speeds, and imposing fewer safety risks, commercial applications of AVs are becoming increasingly common.
COVID-19 responses harnessed the technology, using unmanned shuttles to deliver COVID-19 tests within the Mayo Clinic hospital campus. This allowed technology to strengthen a protective barrier between people, limiting contact while delivering essential services. Hong Kong and China have been using AV technology to clean and sanitize buildings in the wake of COVID-19. These robots offer access to smaller spaces, typically unreachable by a human hand, or more efficient, complete room sanitization for public places, minimizing contact while ensuring comprehensive cleans.
E-commerce has been an essential link throughout COVID-19 and is expected to continue long beyond the eradication of the virus, presenting an opportunity for delivery services to automate their fleet. Most recently has been the release of Amazon's Scout, a last-mile delivery service that uses AV technology. The size of a small cooler, Scout travels at walking pace and can identify objects in its path, avoiding them. Amazon's foray into contactless delivery isn't new (remember the Amazon drone delivery service that is yet to launch?), but many other institutions are embracing it as an essential way to do business, seen with hospitals, e-commerce companies, and restaurants.
As transportation networks open up to autonomous delivery services, the actual technology that guides these devices is improving as well. Recognizing the challenge of reliable signals in vertically dense cities (where even wifi can sometimes seem impossible amongst highrises), AV software developers are continually improving on a consolidated network, using a combination of signals to allow enhanced autonomous weaving through city networks. More reliability means increased safety, protecting both your grocery order and pedestrians on the streets.
Finally, while AV technology may have been redirected as a response to COVID-19, vehicle manufacturing isn't totally paused. Tesla CEO Elon Musk recently tweeted that the innovative AV company is open to "licensing software and supplying powertrains & batteries." In an effort to propel sustainability and create a more competitive market, sharing Tesla's proprietary technology could stoke the market, fast-forwarding research and development for AVs.
LIKE THIS ARTICLE?
Subscribe & get more from Onlia
Sign up for our newsletter and get our best stories delivered to your inbox.
Public transportation to be re-imagined
Pre-COVID, public transportation was in the midst of an innovation shift, assessing new technologies and partnership models that would offer greater coverage for riders – and then everyone stayed home. This dramatic, abrupt loss in ridership devastated the industry. Individual transit agencies across Canada reported dips in ridership between 50-90% of projected normals, freezing revenue almost immediately.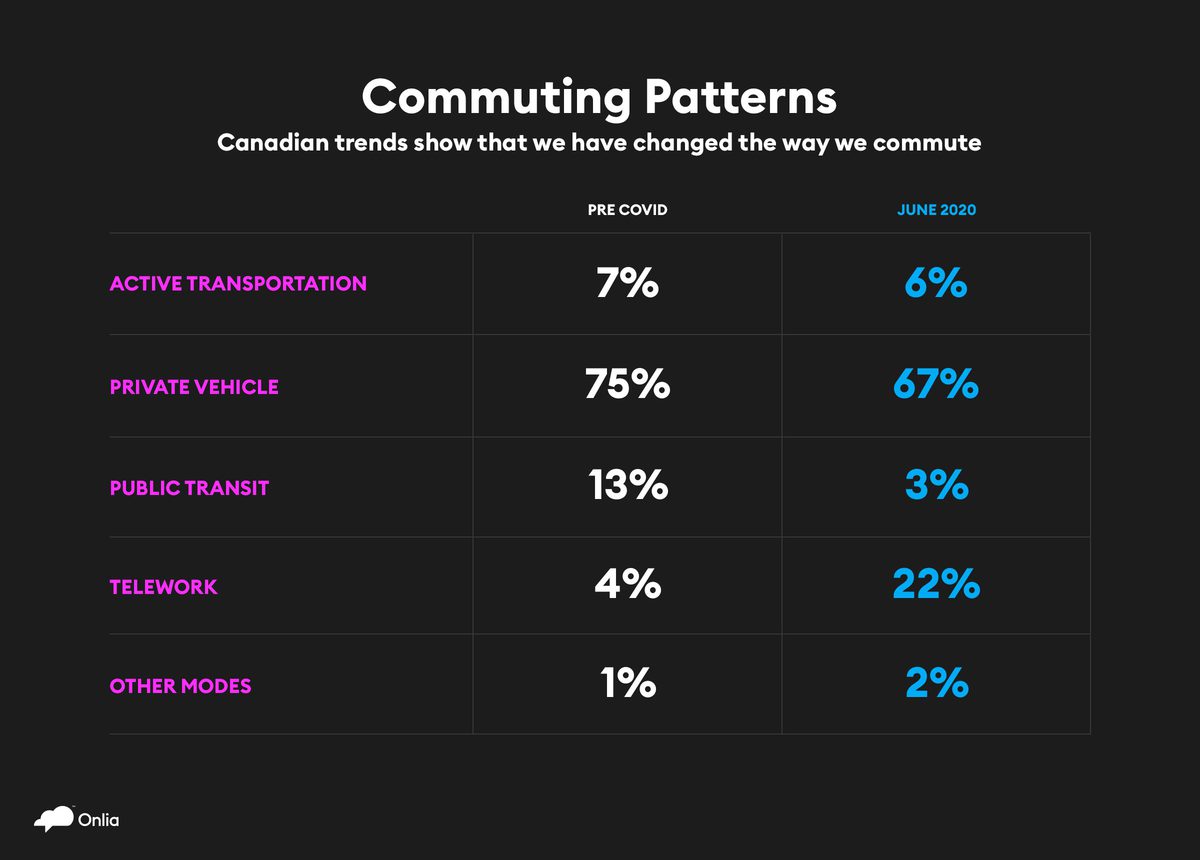 Source: Statistics Canada
Projects like route extensions, electric fleets, and automated service have largely been shelved for the immediate future, as transit agencies try to bring service back online in a safe and sustainable way. The high contact nature of buses, subways, and streetcars pose dilemmas for transit agencies, requiring lengthy and complex sanitization protocols, with costly downtimes for fleet vehicles. Health and safety concerns have skyrocketed, as operators, ticket collectors, and other staff are at the forefront of agencies, increasing potential transmission of the coronavirus.
Amongst all of this, the future is uncertain – COVID-19 has changed transportation patterns, perhaps for good. Riders have lost trust in the system, and are turning to personal vehicles as a cleaner option for commuting; if they are commuting to an office at all. Transit agencies are working to adapt alternate systems, increasing flexibility and decreasing operating costs.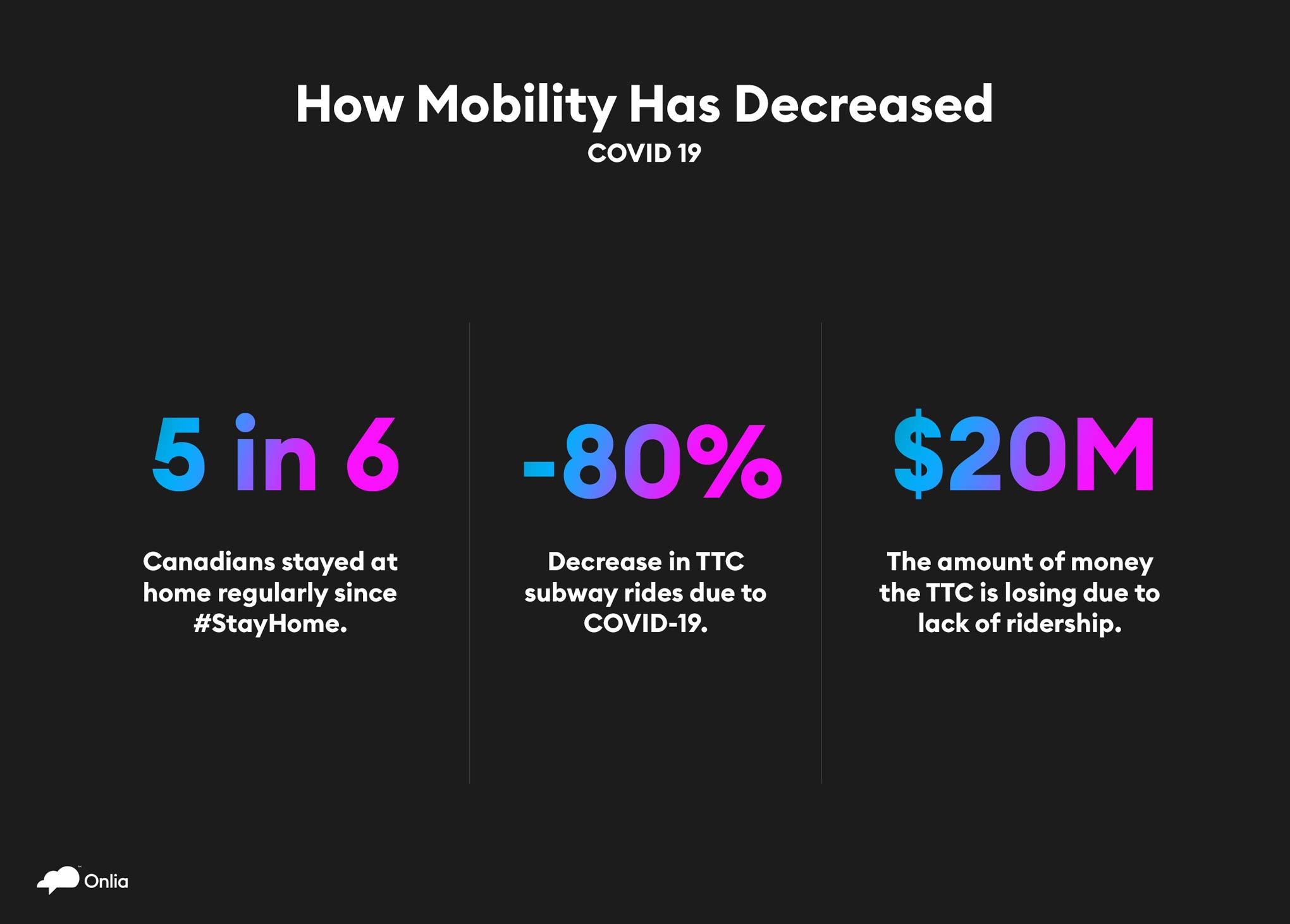 Source: Statistics Canada
Some agencies are reviewing options for on-demand, rather than fixed routes, effectively requiring booking for bus services. While this mitigates spontaneity, it would require fewer vehicles on the roadways, reflecting falls in demand. Agencies are also investigating deeper partnerships to expand networks in a cost-effective way. First mile/last mile concepts aren't new, in which rideshare companies or e-scooter docking stations have prime access at transit hubs, but may be more heavily used as a part of a larger connected network. Recently, the Ontario government asked the Toronto Transit Commission (TTC) to investigate what they're dubbing "microtransit" options, with provincial funding hinging on the TTC's ability to offset resource-heavy transit lines with on-demand rides through partnerships with ridesharing companies.
While existing transit agencies are sorting through the COVID-19 fallout, public transportation innovation is still percolating on a larger scale. The United States Department of Transportation recently released new parameters for transportation innovation, including a framework for developing future-bending hyperloops. With guidelines on safety, security, and privacy, these recommendations are an early indication of innovation plausibility, with the first-of-its-kind directive on hyperloops. Also outlining funding opportunities, this early government entry paves the way for other administrations to enable innovators to shape the future.
Direction of innovation is difficult to predict
While 2020 has been a disruptive year for the transportation innovation sector, it's safe to say that no single organization, industry, or population has remained unscathed – or at the very least, unchanged. Innovation – necessary to propel society forward – has an entirely new set of objectives and obstacles to move through. Impacts on economics, public health, and employment will force governments and organizations to re-prioritize short and long-term action plans, altering the course of innovation.
Expect to see companies investing in shorter-term strategies that help society navigate through the next phase of our new normal, allowing organizations to build economic security while providing solutions to the latest problems. Longer-term innovation will continue, with greater investment from an eventually stabilized market. Transportation patterns may have shifted, but the transit of people and goods will remain; 2020 has tested the assumed shape of our collective future, leaving the opportunity for new innovations to flourish.