How Does Car Insurance Work in Ontario?
New to Ontario? Buying your first policy? Unsure of how insurance really works? Start here.
You can be forgiven if you're not an expert on how car insurance works — it's not exactly something most people read about for fun.However, it's helpful to have a good grasp on your auto insurance obligations and how to get the right coverage for your needs.
That's why we've put together a quick primer on everything you need to know about car insurance in Ontario. Let's take it step by step!
Is car insurance mandatory in Ontario?
Yes. In this province, all registered vehicles must have insurance. Other provinces like BC and Manitoba have a government-owned insurer, but in Ontario you must purchase your coverage from a private insurer.
You'll need to secure insurance coverage before you put licence plates on a car, renew your vehicle registration or buy a temporary permit, and the minimum fine for driving without insurance is $5,000. Repeat offences can cost up to $50,000, and you could have your driver's licence suspended and your vehicle impounded.
Also, if you're convicted of driving without insurance, you'll likely have a hard time finding an insurance company that will insure you. Even if you do, you'll be charged higher premiums because you'll be considered a high-risk driver.
How does car insurance work?
Before offering coverage options, most insurers will want to know things like the make and model of your car, the number of drivers in your household and how many kilometres your car travels in an average year.
Next, they'll tell you what coverages are available. Car insurance is comprised of different levels of protection, limits and deductibles — you choose what's right for your needs.
When you've settled on the protection you want, you'll be given your premium: the amount that you pay for your coverage. Many people pay monthly premiums, but most insurance carriers allow you to pay quarterly or annually, both of which can save you money.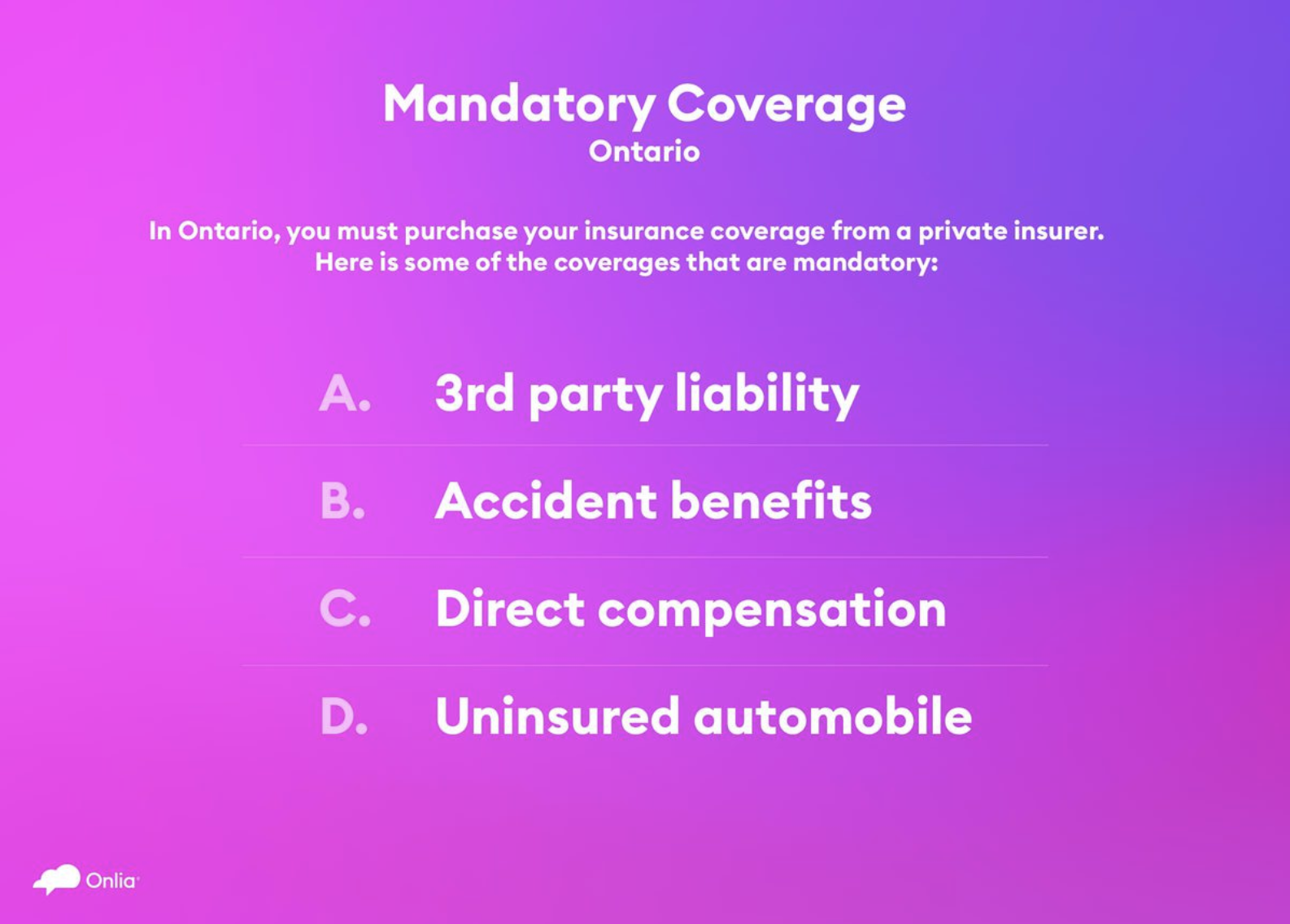 Which insurance coverages are mandatory?
As a car owner and driver, you are required to purchase these coverages:
Accident benefits. Covers the cost of medical expenses and any ongoing treatments you might need as you recover from an injury caused by a collision involving your car. It will also provide income replacement if you're unable to work while you recover.
Third-party liability. Covers the costs when someone outside your vehicle is injured or killed, or property is damaged because of an accident involving your car, up to $200,000. Note: Liability claims often run into the millions of dollars, especially if someone is hurt in a collision. Most Ontario drivers opt to upgrade third-party liability coverage to cover $1 million or more.
Direct compensation. Pays to repair damage to your vehicle and any belongings in it after an accident that isn't your fault.
Uninsured automobile. Provides up to $200,000 for damages if you're injured or killed in an accident that involves an uninsured vehicle or a driver that leaves the scene.
What other coverages can I get?
In addition to the mandatory coverages, you have other optional protections available.
You can raise the limits for the third-party liability coverage and accident benefits coverages to be more in line with what damages would cost today.
Optional accident benefits
These are optional coverages that provide protection in specific situations:
Income replacement benefits
Medical, rehabilitation and attendant care benefits
Caregiver benefits
Housekeeping and home maintenance benefits
Death and funeral benefits
Each coverage comes with its own coverage limits. It may be helpful to talk to your insurer about which ones may be worthwhile for you.
Extra coverage for loss and damage to your vehicle
Do you love your car? Many people choose to add coverages like these to fully protect their car from all types of unexpected accidents:
Specified perils coverage. This pays for losses caused by things like fire, hail, floods or theft.
Collision or upset coverage. This one is very popular! It pays for damages if your vehicle is in a collision with another object or rolls over.
Comprehensive coverage. This is protection for losses that come from perils other than collision or upset.
All perils coverage. This is a combination of collision or upset and comprehensive coverages. It also covers loss or damage if a member of your household steals your car and provides protection if an employee uses it.
Optional policy endorsements
An endorsement is an extra benefit you can add to your insurance policy to change, add or reduce the amount of coverage in certain situations such as:
Rented or leased vehicles
Transportation replacement when your car is being repaired
Liability for damage to non-owned automobiles
Family protection coverage
Your insurance provider will offer details that will help you decide what makes the most sense for you.
LIKE THIS ARTICLE?
Subscribe & get more from Onlia
Sign up for our newsletter and get our best stories delivered to your inbox.
Can I get temporary car insurance in Ontario?
Temporary car insurance can be a great option for drivers who only need insurance a few months out of the year. But temporary car insurance isn't available for drivers in Ontario, which has some of the strictest insurance requirements in the country.
Some drivers outside of Ontario opt for temporary insurance if they buy a car on temporary plates or if they have a seasonal hobby vehicle, like a motorcycle or an antique car. Students sometimes pick up temporary insurance if they are home from school for a few months.
While some companies may offer six-month policies to Ontario drivers, most people will qualify only for yearly mandatory coverage.
What insurance do I need for an occasional driver?
An occasional driver, also called a secondary driver, is someone who only uses a vehicle occasionally or a driver who has a G1 or G2 licence. This includes:
Friends and family members — including spouses and visitors
Teenage children who have a G1 or G2 licence
Roommates
Nannies and babysitters
Neighbours who use someone's car from time to time
All licensed adults in your home should be added as occasional drivers. This will increase rates based on the occasional driver's age, experience, driving record and insurance history.
You don't need to list someone as an occasional driver if they borrow your car once or twice, or if they drive your car while visiting from out of town.
Car insurance in Ontario for new drivers
If a teenager or another member of your household gets their driver's licence and wants to use your car regularly, they will need to be added to your insurance coverage as an occasional driver; it's significantly cheaper to add them to your policy this way than taking out a new one for them. That's because teenagers are considered much higher risk as drivers.
Most insurance companies won't require you to insure a teenager still in the learner's permit stage, but when they are able to drive on their own, they will need to be included. It's important to tell your insurance provider if they will be the full-time driver of your vehicle. If so, you may need to pay a higher premium than for an occasional driver, but it ensures they will have full coverage.
How much does car insurance cost in Ontario?
The average cost of car insurance in Ontario is about $1,500 to $1,900/year. Your individual premium depends on a number of factors, including the type of car you're insuring, your age, how often you drive and your driving history. The premium is based on the probability you'll make a claim — i.e., if you're considered higher risk, your premium will be higher.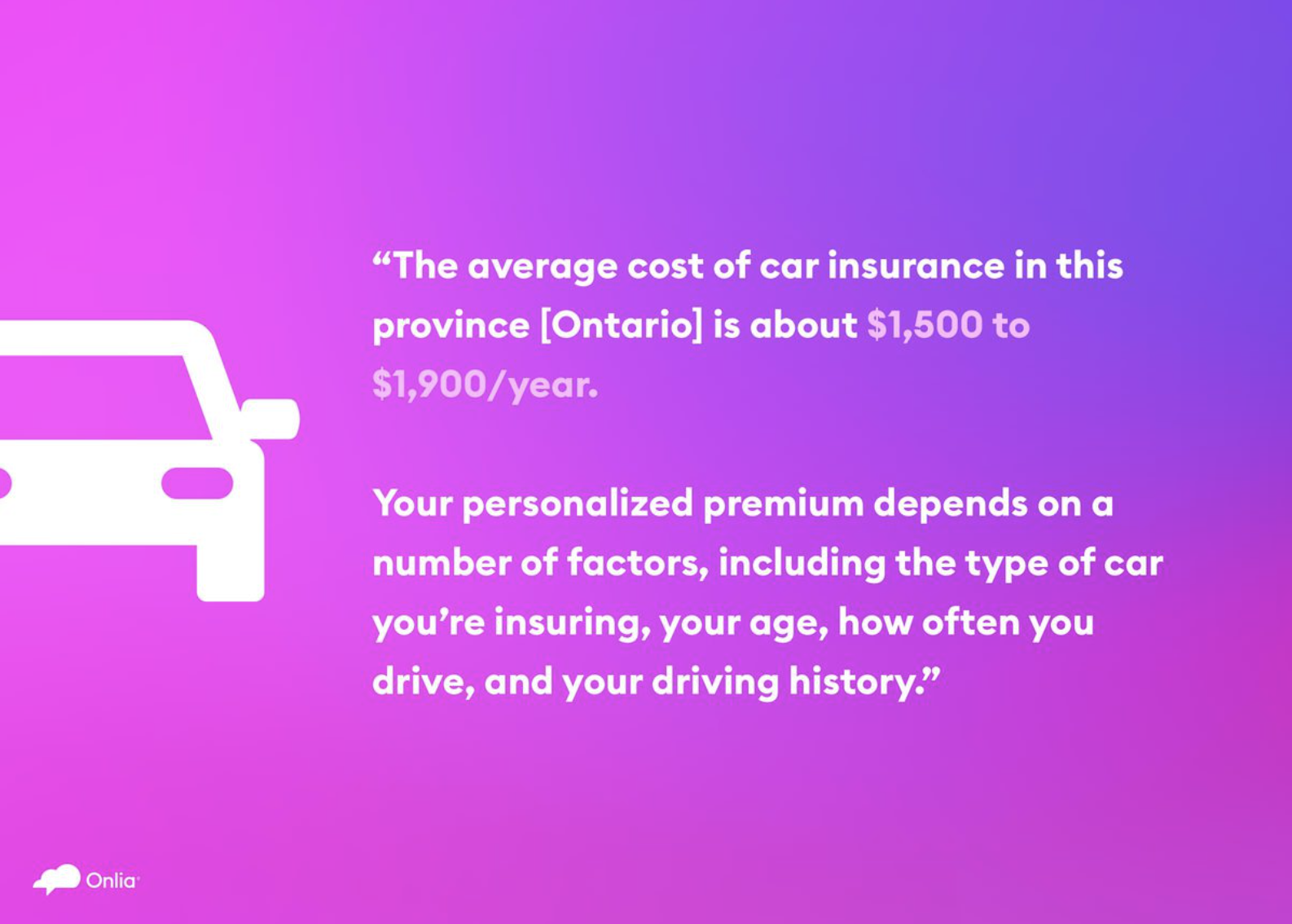 Many insurance providers offer ways to reduce your premium, such as bundling home and auto insurance and offering discounts for being claims-free, having winter tires, being a retiree and insuring more than one vehicle. Onlia even offers cashback rewards when you demonstrate safe driving habits measured through the mobile app.
How do I get car insurance in Ontario?
To be eligible for insurance in Ontario, you and the other drivers you wish to include on the policy must have a valid driver's licence and be
Canadian residents.
You can choose to purchase:
From an insurance broker who sells insurance on behalf of a group of insurance companies. They will get information from you to understand exactly what you're looking for and then find the best rate from that group of companies.
From a direct writer or insurance agent. These professionals work for one insurance company and sell that company's insurance products.
Directly online. Many private insurers offer self-serve online services that allow you to enter information about your vehicle and its drivers. You'll typically get a quote right away.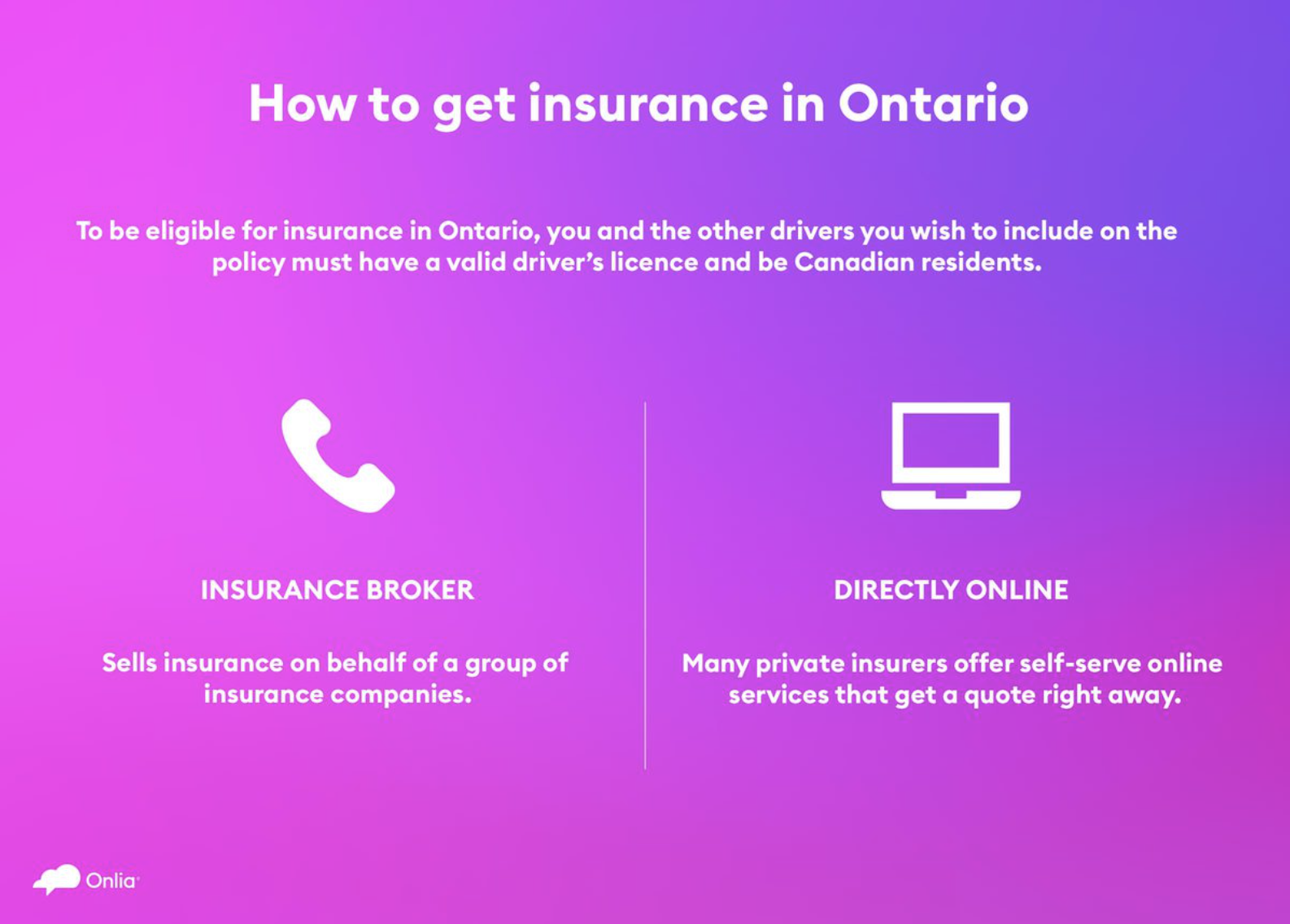 A private insurer will also want to know a little about you before they agree to take you on as a customer. If you're considered "high risk," they may refuse to provide insurance, or they may levy higher premiums. You're considered high risk if you've had multiple convictions and accidents, or if you've had policies cancelled because you failed to make your payments.
Car insurance isn't so complicated
It might seem like there's a lot to uncover when it comes to car insurance, but it's a straightforward process. Most private insurers go out of their way to make things easy for consumers to choose the protection that meets their needs.
At its heart, car insurance is all about protecting you from financial losses that arise from unfortunate and unforeseen events. If an accident happens, you know you have coverage and experts you can depend on to move forward — and that's worth the price of a monthly premium.