What You Should Know About the Different Types of Car Insurance
Cover yourself for what you need. Learn about car insurance coverages and how they can protect you.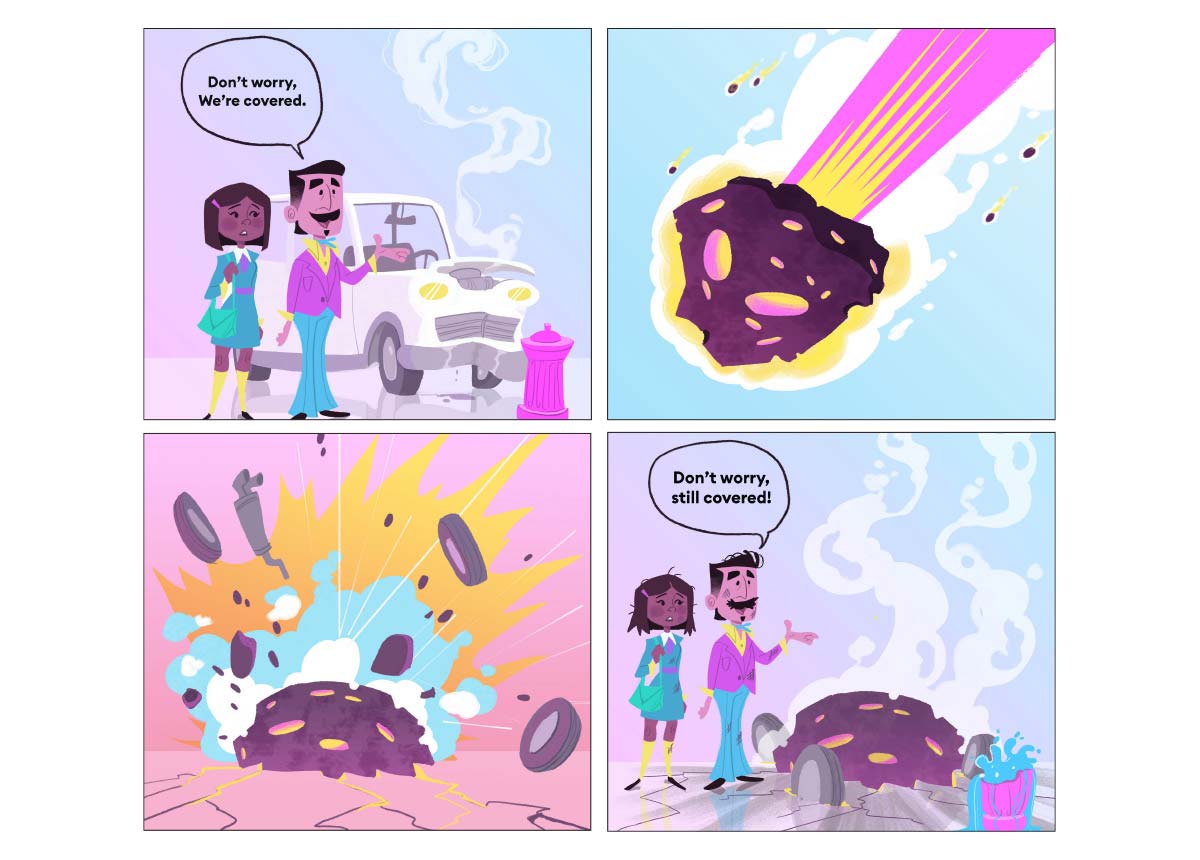 Car insurance is mandatory for all Canadian drivers, and you could face fines ranging from $5,000 to $50,000 and have your licence suspended if you're caught driving without the proper insurance. But that's not where the story ends.
Alongside the coverage you have to carry are a number of elective coverage options that will protect you in situations where basic car insurance won't. With so many types of auto insurance and optional add-ons, you may still be wondering what that really means.
In this piece, you'll read about what your basic car insurance policy covers, what different non-essential car insurance types can do for you, and what you need to get driving.
Basic car insurance
The first thing to know about car insurance: a basic policy has what you need to legally drive. In Ontario, this includes:
Third-Party Liability coverage
Statutory Accident Benefits coverage
Direct Compensation – Property Damage coverage
Uninsured Automobile coverage
This package protects you from a wide range of damage-related expenses that could result from a car accident. Incidentally, these kinds of claims have the highest payouts after an accident since they compensate you for any injuries you may have suffered that aren't covered by your Ontario health insurance plan. Qualifying situations include:
Medical expenses
Rehab expenses
Attendant care
Lost income
Lost education
Funeral expenses
And depending on your level of fault, it could help you pay for injuries or damages you're liable for or compensate you for your own car repairs.
How does basic car insurance work?
If you get into a car accident, you'll most likely have to prepare for an insurance claim. This involves gathering insurance information from everyone directly involved, taking pictures of the cars and the scene and jotting down everything you can remember about what happened.
**Note: Car insurance coverage requires you to report any incident within seven days if it caused injury or property damage.

When you file a claim, your insurer will make a "fault determination." Everyone involved in the accident (you included) will be assigned anywhere from 0% to 100% fault for the incident, depending on the circumstances: maybe one person was speeding, while another was on their phone while you were forgetting to check your blind spot.
The more fault you're assigned, the more your policy will pay to cover injuries or property damage. The more others are at fault, the more you can receive as compensation.
**Note: Personal fault above 25% is likely to raise your premium, but if you think your insurer missed something, you can dispute their fault determination.

What does basic car insurance cost?
In Ontario, auto insurance costs around $1,500 per year on average, but is dependent on a variety of factors including:
Your age
Your gender
Your location
Your car model
Your yearly mileage
Other regular drivers
Your own driving record
Past claims and claim types
Your premium may also be higher if you add "endorsements" or "riders." These tailor your policy to your needs.

Common endorsements can extend coverage to rentals, pay for a replacement vehicle during repairs, or stop your premium from rising after your first at-fault collision.
Optional auto insurance coverage
This will pay to repair or replace your car in the event you collide with another car or object. While you already have something similar (Direct Compensation — Property Damage (DCPD) Coverage) as part of your mandatory coverage, it's not exactly the same and the difference is important.
If you're in a car-on-car collision and it's determined the other driver was 100% at fault, your mandatory DCPD insurance will pay for the damage to your vehicle. But if you were more than 25% at fault, DCPD will cover the cost of some damages, but not the 25% portion that you were at fault for. By opting into collision coverage, you can rest easy knowing the repair cost of any accident will be covered, regardless of how much fault is assigned to you.
Collision insurance is also helpful in single-driver cases. If you accidentally drive into a tree or a signpost, DCPD will not apply and it will fall on your collision insurance to cover the costs — as long as you have it.
Is collision insurance worth it?
This will depend on you and the car you drive.
For example, if you lease or finance your car, then collision insurance was likely a requirement of your contract.
If you own the vehicle outright, the decision will come down to whether you're willing to pay the full replacement cost if it got totalled. This would probably be an emphatic "no," if you had a brand-new car. But if your car's getting old and you're already looking for a replacement, then collision insurance may be draining what you could put towards your next ride.
Collision insurance averages $500 to $700, but can be more expensive if you own a high-end vehicle. Keep in mind that you can always lower your collision insurance premiums by agreeing to pay a higher deductible.
LIKE THIS ARTICLE?
Subscribe & get more from Onlia
Sign up for our newsletter and get our best stories delivered to your inbox.
It's easy to assume that basic DCPD coverage + collision insurance has you fully covered for everything until a tree branch falls in the parking lot and breaks your windshield.

Comprehensive costs around $100 to $300 per year on average (usually cheaper than a collision policy) and covers damage to your car not caused by a collision.

Most comprehensive plans will cover you for:
Vandalism
Theft
Fire
Explosions
Falling objects
Flying debris
Harsh weather
Natural disasters
Animals
Additionally, comprehensive coverage doesn't discriminate based on fault. So, if you decide to park your car at the far end of a driving range and you come back to find cracks in your windshield, comprehensive insurance will still apply.
The uniqueness of comprehensive insurance
Comprehensive coverage is actually the only type of car insurance that can help you if your car is stolen, but the coverage extends only to the car itself and not to any personal possessions in the car when it was stolen. That personal property is covered by your home insurance policy.

If your car is broken into but not stolen, the damage your vehicle sustains will be covered. So, if a thief smashes your car window to take your bag, the cost of repairs will be covered. Comprehensive insurance also covers stolen car parts.
Do you need comprehensive and collision insurance?
Both are optional, but they work together to insure you against all the damages left uncovered by your mandatory policy. And you'll probably kick yourself if you go for one and wind up needing the other; which of course would happen because why wouldn't it?
Repairing your vehicle is unfortunately only one of the major costs involved after an at-fault accident. As helpful as collision insurance is, it only pays for damage to your own vehicle and won't help at all with injuries. This is why third-party liability insurance is a key part of your mandatory coverage.
How does third-party liability work?
If you find yourself at fault in an accident, anyone who was injured or had their property damaged will file a claim with their own insurance company. They will then approach your provider for a settlement. Your third-party liability insurance is used to pay this settlement. It can include:
Medical treatment
Lost wages
Funeral expenses
Vehicle repairs
Personal property damage
Additional lawsuits
This coverage is only used for other people's costs, but it isn't exclusive to drivers. Pedestrians, cyclists and property owners affected by the incident can all legally pursue a settlement. And because fault can be spread across multiple people, your liability insurance may still come into play if you're only 1% at fault.

** Note: The minimum coverage for liability in Ontario is $200,000. It's important to note that if the settlement you're required to pay is larger than your coverage limit, then you'll need to personally pay the difference.
Should you raise your liability insurance limit?
$200,000 is probably sufficient after a minor collision with another car, but once you add in multiple drivers, each with their own car repairs and medical expenses, the settlement can speed past your limit. If a car with a few passengers is involved, you could find yourself paying for all their injuries.
Victims can even sue for further damages if they feel the settlement doesn't adequately cover their pain and suffering. In this case, your insurer will use your liability coverage for your legal defence.
For these reasons, it's often recommended that drivers opt to increase their third-party liability coverage to at least $1,000,000.
This is the final type in your basic car insurance package, and it's an important one.
If you're assigned 0% fault in a car accident, the payouts you receive from the person or people at fault are based on the fact that insurance is mandatory in Canada – assuming they have insurance.
What happens if the person at fault is driving without insurance?
It may seem like an obvious answer: they should pay you from their own wallet because your injuries and the damage to your car are both their responsibility. But it doesn't always work out this way. While they certainly won't get off easy, they may not be able to cover what they owe you.
Uninsured motorist coverage is like insurance for your insurance. If you can't get the funds the regular way – from an at-fault driver – this coverage makes up the difference.
And the coverage doesn't stop at uninsured drivers. It can pay for damages when an insured driver's plan has insufficient coverage to pay for your settlement or if you're the victim of an unknown hit-and-run driver.
The default limit for uninsured motorist coverage is $200,000.
How can you increase your uninsured motorist coverage limit?
You can add a family protection rider. If the absolute worst-case scenario happens and you get in an accident while your family is in the car, you may find basic coverage isn't enough to cover everyone's medical expenses. If your accident benefits coverage isn't enough and the at-fault driver's liability insurance hits the limit, your uninsured motorist coverage is the last defence and $200,000 may not be enough.

With family protection coverage, your uninsured coverage will match the limit on your liability insurance. This means, if you've opted for $1,000,000 or more of liability, then you'll have the same amount for your emergency funds.


Now you know what you need to know about auto insurance
You know about the different types and the role each plays in making you feel secure as a car owner. And you know why they're all most effective as a complete package. Get a quote today to be covered tomorrow.