Our Complete Guide to Home Insurance Coverage
Learn about home insurance coverages and how they can protect you.
If you're in the process of becoming a homeowner for the first time, someone's probably mentioned
home insurance
to you.
They probably said something like, "Home insurance is one of those things you hope you never have to use but will always be thankful for if you need it."

They're right. Things happen when you own a home. Unexpected things. Expensive things. And they always happen at the worst time.

But with good home insurance coverage, you can rest assured that you're going to be okay.

"My house isn't going to burn down." You're probably right. But a 5-millimetre black spot on your basement wall could become a $50,000 mould removal three weeks before Christmas.

The apartment above yours could have a flood that leaks through your ceiling. And what's stopping a storm from toppling a giant tree through your roof other than luck?

Home insurance is money when you need it the most, and the security of knowing that your path back to whole is going to be a lot easier.
Is home insurance mandatory in Ontario?
Home insurance is not technically mandatory in Ontario, but few lenders will give you a mortgage without it – and you should be cautious of any lender who does. Since they have a financial stake in your property until you pay it off, whoever owns your mortgage should want to see that you're protected.
So why not forego home insurance and pocket the money?
If your home is in the 2% severely damaged by water or ice this year, the 2.5% damaged by wind and hail or the 0.028% destroyed by fire, wouldn't it be great to have the money to get yourself back on your feet?

As for having home insurance coverage after your mortgage is paid off, ask yourself whether you'd ever be comfortable covering the whole cost of completely rebuilding your home.

When NOT to buy home insurance coverage
The only time we would recommend not buying home insurance coverage is if you're not yet sure of what you need. It's strongly advisable to have a basic understanding of how home insurance in Canada works before making such a big investment.

That's what the rest of this article will focus on, so let's get started.
What is home insurance?
Home insurance is protection from going out of pocket to repair unexpected damage to your home, to cover the costs of someone getting injured on your property, or to pay for any damage you accidentally cause to someone else's.

These terms are important to know when having any discussion about home insurance in Canada:
Coverage: The maximum amount of money that could be covered by your insurance company for a given event.
Policy: Outlines everything included in your coverage. This will dictate the specific things you are protected from.
Premium: The monthly fee to keep your policy active. The riskier the coverage, the higher the premium.
Claim: The request you make to your insurance company to cover costs if you believe they're covered by your policy.
Deductible: The amount you pay when making a claim. Your insurance company covers the rest (up to your limit).
What kind of home insurance should I be buying?
The right home insurance policy will protect you against whatever life throws your way. The wrong kind will tell you you're not covered for whatever happened and leave you playing catch-up for years.

These are the most common types of home insurance policies:
Homeowners: This type of insurance covers private residences. It protects the contents of the home, as well as the homeowner's liability. A typical policy will usually cover damage and losses as a result of fire, theft, hail or windstorm.
Renters: Tenant or renters insurance is property insurance for those who don't own their home. It's used to protect their belongings, and to provide liability coverage.
Condo: Condo insurance will protect individual units within a condo building. Purchased by condo owners, this type of policy will protect the contents of the unit like appliances, clothing and furniture. It'll also cover additional living expenses in the event that you need to relocate while your condo is being repaired.
Seasonal: Insurance for seasonal homes will typically cover the outdoor structures on your property, the contents of your seasonal home and provide liability coverage.
Why do I need home insurance?
You need home insurance to protect yourself from having to pay out of pocket to replace your home and everything in it in the event of a disaster. It's also protection for the equity you have in your home.
But what if you're only renting?
Home insurance is a necessity for renters as well because landlord's insurance on the property won't extend to a tenant's belongings.

As a renter, your home insurance will also cover liabilities and living expenses in the event of a relocation due to repairs. If you have nowhere to go after an event beyond your control, your home insurance could cover accommodation and food until you find a new place.
What does home insurance cover?
Home insurance can cover your physical home, its contents, the property it's on, any secondary structures (like a guest house or a pool shed) or any combination of the four. What your policy covers will depend on what your provider offers, how much you're prepared to pay in premiums, and how much you're prepared to accept as a deductible.

For example, if you have a kitchen fire, your home insurance will cover the costs to repair the room and replace damaged appliances. While all home insurance policies will offer basic coverage, you could add additional coverages to your policy that increase its protection. This will vary based on your provider.

Home insurance coverage will also differ depending on whether you live in a condo or you're renting.

If you own a condo, your home insurance will typically cover any improvements you make to your unit, as well as your belongings. If you're renting, your policy will protect your belongings but may not cover changes you make to the property.

Home insurance options and pricing could also change depending on a number of risk factors. These include where you live, the size of your home, the age of the building, the construction materials used and the number of people living on the property.
Home insurance against fire damage
Fire damage is unfortunately a common reason a claim is initiated. While some of these claims are a result of resident negligence (like a dinner napkin too close to the table candles), just as many could have never been prevented. In 2017, the National Fire Information Database was created to compile statistics on fires across Canada over a whole decade (2005-2014). The study found that out of all fire-based incidents, fires to structures were the most common with an average of 20,533 per year. In 2014, 74% of all structural fires occurred in residential buildings.
Fires are unpredictable and can cause major damage even when caught early – be they a result of a lightning strike, a power surge or a fire in a neighbouring house/condo/apartment.

Most home insurance policies with fire coverage will include the cost of repairing or rebuilding the structure and replacing the personal property that was inside. They will also cover damages if a fire that started in your space spread to neighbouring rooms, units or buildings.

Depending on your policy, you'll likely be covered for cost-of-living expenses if you're left without a home to stay in. This will pay for hotel stays, rentals, restaurant bills and utilities you may have lost.
LIKE THIS ARTICLE?
Subscribe & get more from Onlia
Sign up for our newsletter and get our best stories delivered to your inbox.
Home insurance against earthquake damage
This is generally an add-on option, but worth a look depending on where in the province you live because earthquake damage can be substantial.

According to government studies cited by the Insurance Bureau of Canada, the chances of a major earthquake hitting Ontario in the next 50 years tops out at 15%.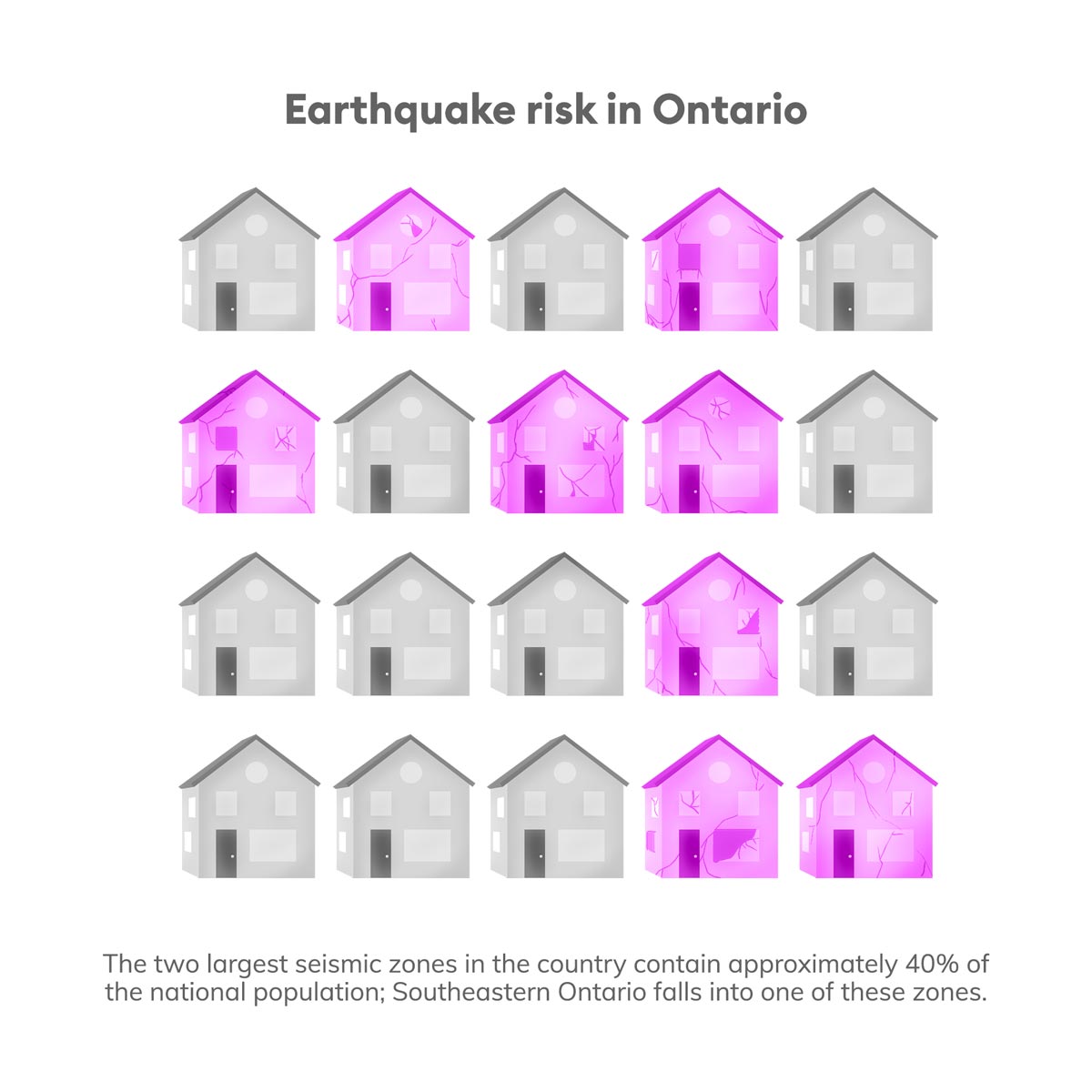 It also shows that Canada has around 4000 earthquakes per year, but most are too small to feel. That being said, the two largest seismic zones in the country contain approximately 40% of the national population. Southeastern Ontario falls into one of these zones.

It's not a huge risk, but it's not minuscule either. You should know that fires or water damage caused by an earthquake may still be covered under your current plan. If you're in a higher risk area, you can always add earthquake coverage later on.
Home insurance against electrical damage
You'd think that this would fall under fire, but it doesn't because electrical damage is usually the result of shoddy workmanship, which very few policies will cover.

Having said that, some policies will cover electrical damage caused by:
Age, if your home is 40+ years old
Clutter, if you're relying on extension cords for power
Strain, if you've added major new appliances
Power source, if your home has ungrounded two-prong outlets
Wiring, if your home has aluminium instead of copper wiring
The National Fire Information Database we mentioned earlier places mechanical or electrical failures as a major human cause of residential fires. In 2014, it accounted for 1 in 5 fires across Canada. If you're in an older building or have any doubts about the wiring in your home, ask your insurer about these options.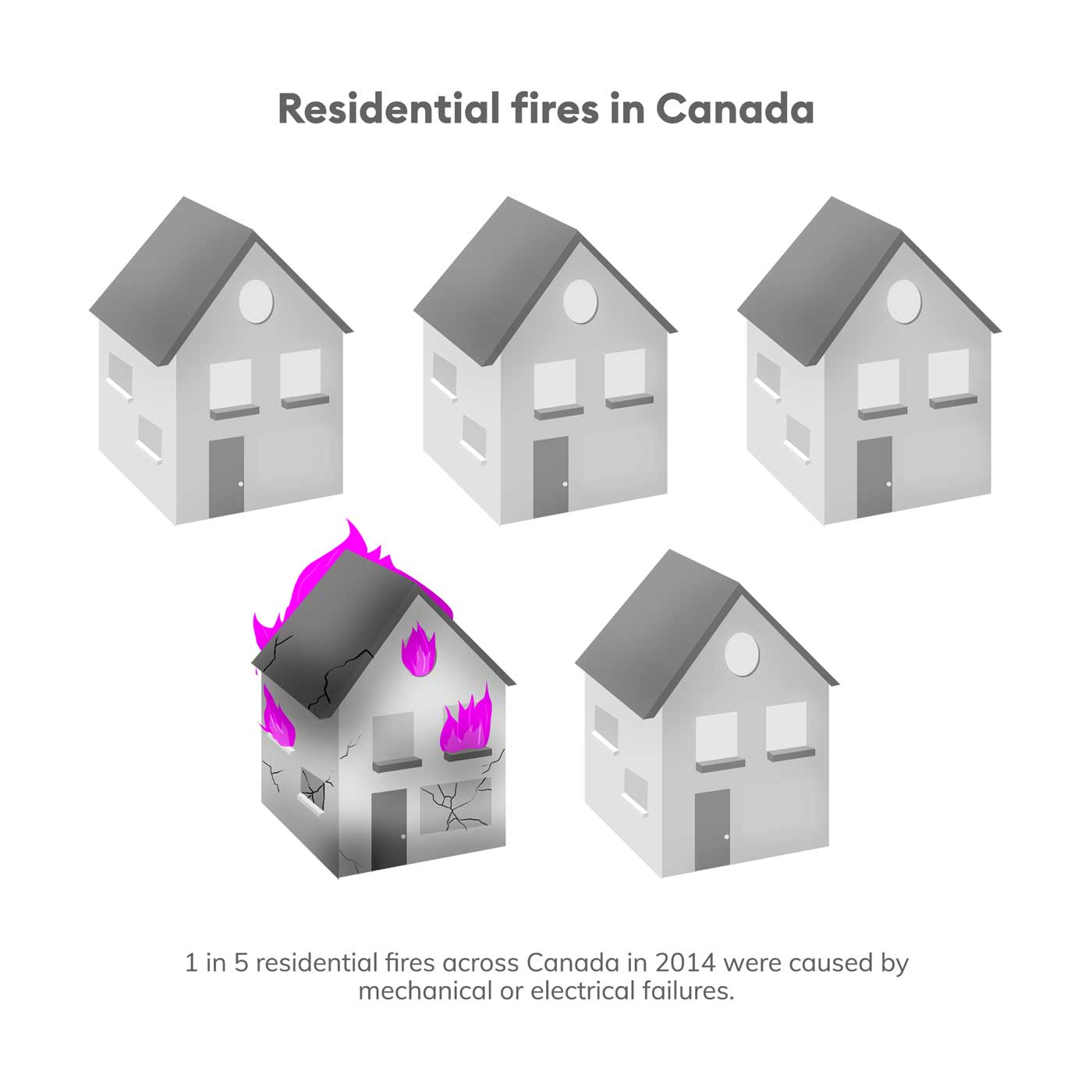 Home insurance against flood and water damage
It's easy for water to cause expensive damage. It often goes undetected until it's way too late, and it can wreak havoc on your home in so many different ways. A report on Canadian water damage risks showed that water was responsible for 48% of insurance claims in 2011, and was a growing problem for home owners.

Coverage for water damage is usually divided into what's covered as a standard and what's optional.

Standard coverage includes damage caused by "clean" water, which is water that didn't come from the ground or the sewer. This would be water in your home's reservoir that overflowed back into your living space because of a back-up, blockage or other impediment. It can also include an unexpected burst pipe or water that creeps in due to damage during a storm.

The most common optional flood coverage is for sewer backup. In the past, overland water damage (water that comes in through your windows and/or doors as a result of rain or an out-of-control river) was not covered by insurance plans. But today, insurance companies are starting to offer this as an addition to your home insurance policy. If you live close to a body of water or experience a lot of rainfall, overland water damage coverage is a worthwhile investment.

In Ontario, it's also worth mentioning that the two largest insured weather events of 2020 were a rainstorm that caused $98 million in damages and a windstorm that caused $88 million in damages. Basic home insurance covers damage from wind, rain, snow and hail, along with anything that's picked up and thrown at your house, like tree branches or debris.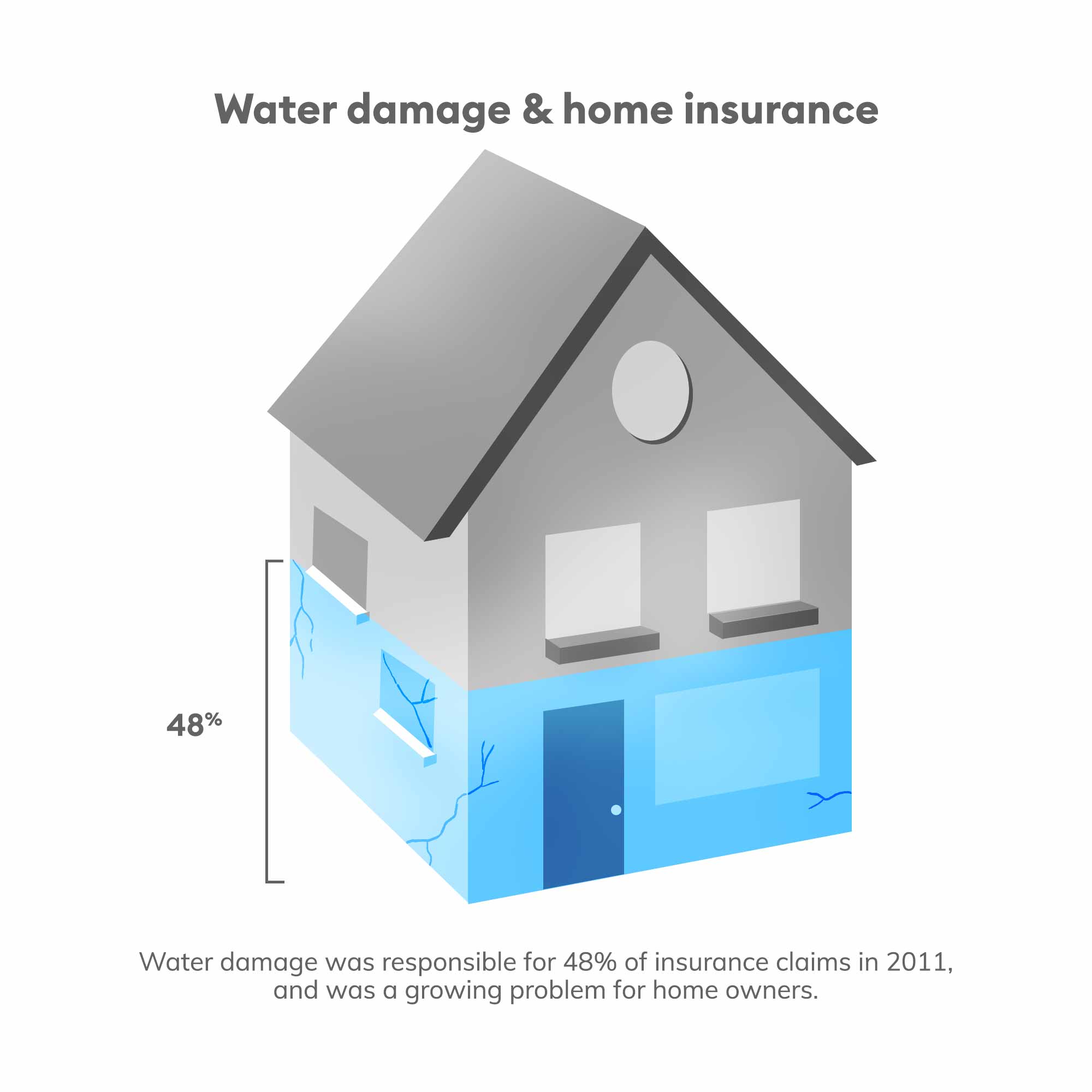 Home insurance for your personal property
This is the legal term for all your belongings. It seems straightforward, but it does come with some interesting variables.

Most notable is that your possessions don't need to be in your home to be covered. Home insurance actually protects your possessions from theft and damage even when the incident occurs elsewhere. This extends to items stolen from your car as well.

By default, you'll be compensated for your damaged or missing property based on its cash value. This takes into consideration age and condition to determine a realistic price if you had sold it. However, you can also find policies with a replacement cost option that will compensate you with enough money to purchase a replacement of similar quality.

In the case of high-value items like collections or jewellery, you may need to add to your policy as these can sometimes cost more than everything else combined and may require appraisal to prove their value.
Home insurance for personal liability
Most of the time, when you're thinking about home insurance, you're thinking about damage to your property – but that's not the only risk you may face. If someone gets injured or their property gets damaged while in your home, you could be found liable. If this happens, your home insurance will cover the cost of damages.

Conversely, if you accidentally break something or cause an injury in someone else's home, your home insurance will cover the cost of a lawyer and pay for the damage.

Personal liability insurance is a particularly important part of your home insurance policy if you have a pool or a dog. It will cover you if someone has an accident while swimming at your house and provide your defence if the dog bites someone or destroys their property.
Now you're ready for home insurance coverage
More specifically, you're ready to choose the right policy for you. See what Onlia home insurance has to offer, get a quote and customize your coverage today.