Top Road Trips in Ontario with Scenic Drives
We list off some beautiful spots in Ontario, perfect for short (or long) road trips.
The best vacations don't always have to involve a plane ticket. If you've got a car, the next best thing is a road trip! Ontario has some beautiful scenic destinations as well as some hidden gems to discover.
Ontario is full of unique discoveries, especially during the summer months. Although most people are familiar with Toronto and Ottawa, there's a lot more to explore in this massive province near you. From beautiful hiking trails to charming B&Bs, check out our road trip planner for some fun ideas and amazing scenic drives in Ontario. These destinations also offer scenic drives along the way — after all, half the fun is getting there!
Northern Ontario
Detour through Algonquin Provincial Park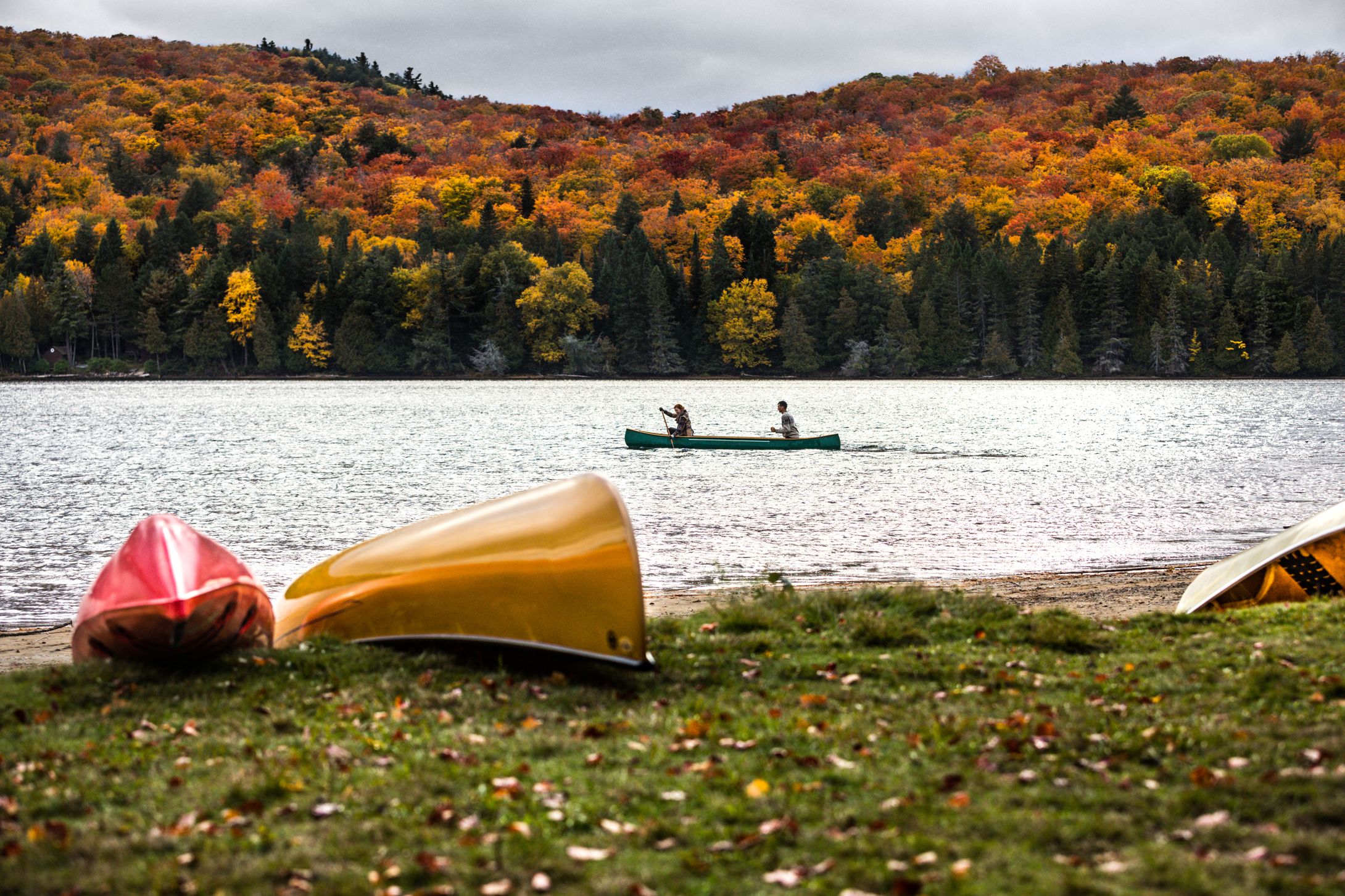 Drive from Toronto: 3hr
Duration of trip: 1-2 days
Best season to visit: All
If you're driving from Toronto to Ottawa, one of Canada's most famous parks is the perfect detour. Although not the most direct route between the two cities, Algonquin Park is a welcome escape from the hustle and bustle of urban life. They offer a variety of outdoor activities throughout the seasons — you can try out backpacking, camping, fishing, canoeing, and wildlife observing during the warmer months and dog sledding, snowmobiling, and skiing during the cooler months. Different tour packages are at your disposal throughout the seasons. Regardless of the weather, Algonquin park has 7653 km of beautiful forest to explore.
Take some time to stretch your legs with a hike through one of the park's several trails, or have a picnic while catching glimpses of moose, beavers and rare birds. There are several trails within the park varying in length and difficulty — make sure to choose a trail that is comfortable for you. Once you're back on the road, you can explore the area a bit more by visiting a local café or bakery. You can enjoy more scenic views along the Ottawa River and check out some pretty towns as you head towards the nation's capital.
Sand beach at Pancake Bay Provincial Park
Drive from Toronto: 8hr
Duration of trip: 1-3 days
Best season to visit: Summer
Relax and sit by the blue waters at Pancake Provincial Park. There is more than 3 km of sand beach and water for you to explore with an additional dog beach for your furry friend to tag along. They offer a variety of camping options ranging from RV sites, car camps, and yurts with access to washroom facilities across the park. Activities range from swimming, hiking, canoeing, fishing, and even hunting — you can choose which activities are best tailored to your taste. If you want a deeper dive into the area, the park is also a short drive from many other regional attractions.
North Bay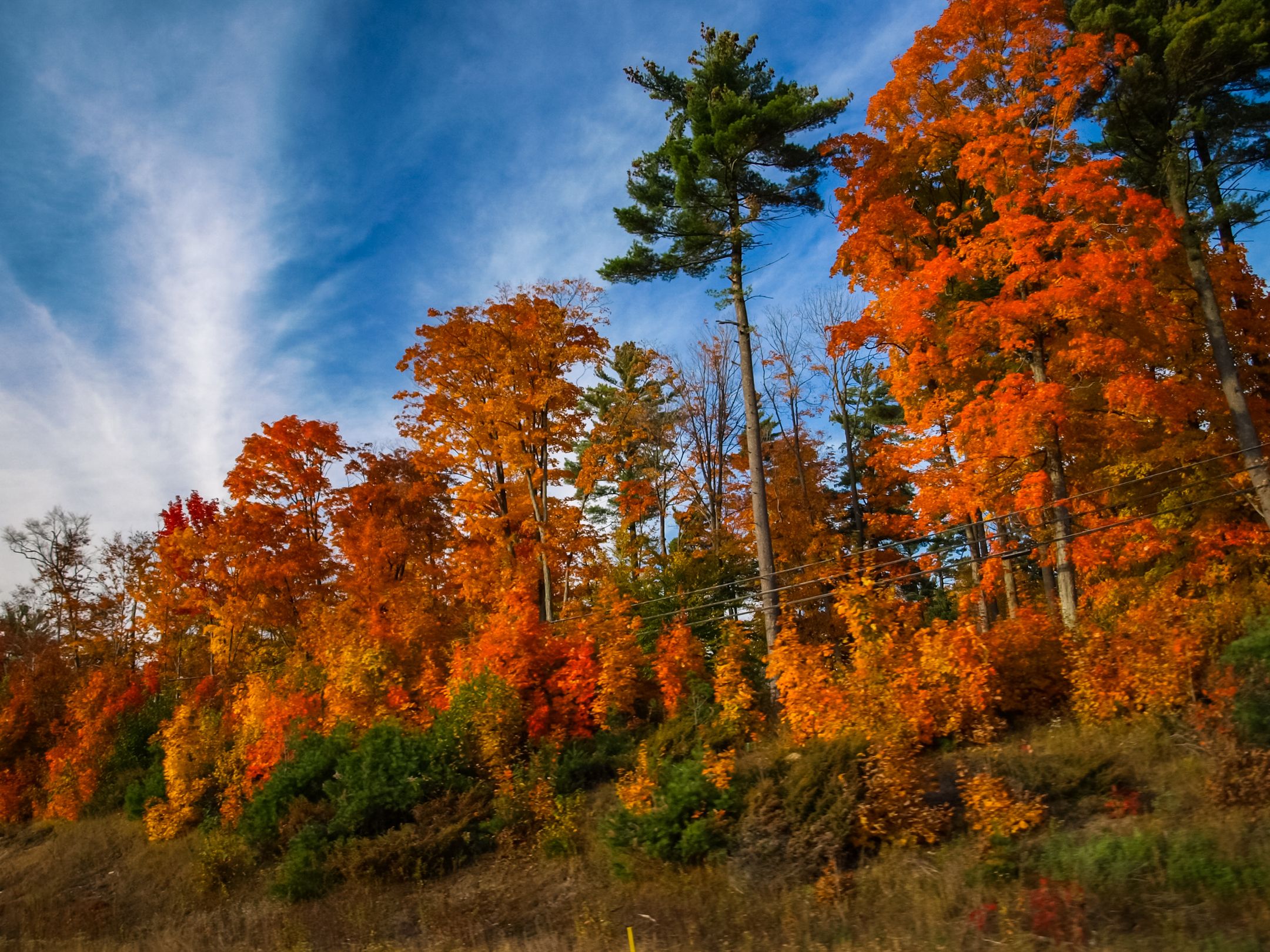 Drive from Toronto: 3.5hr
Duration of trip: 1 day Best season to visit: Fall
Take a drive to North Bay during the Fall to see all the vibrant trees along the road. Hop out of your car to take a quick hike at the Duchesnay Falls Trails where you can enjoy the view and see the beautiful cascading falls.
Avid museum fan? Take a visit to the Discovery North Bay Museum, and the Canadian Forces Museum of Aerospace Defence where they highlight unique artistic and historical pieces. Afterwards, visit local breweries and North Bay's Farmer's Market opened Wednesdays and Saturdays for some locally grown fresh goods and a quick bite. To end off the day, settle down near Lake Nipissing and watch the beautiful sunset on the horizon.
Southern Ontario
Waterfalls in Hamilton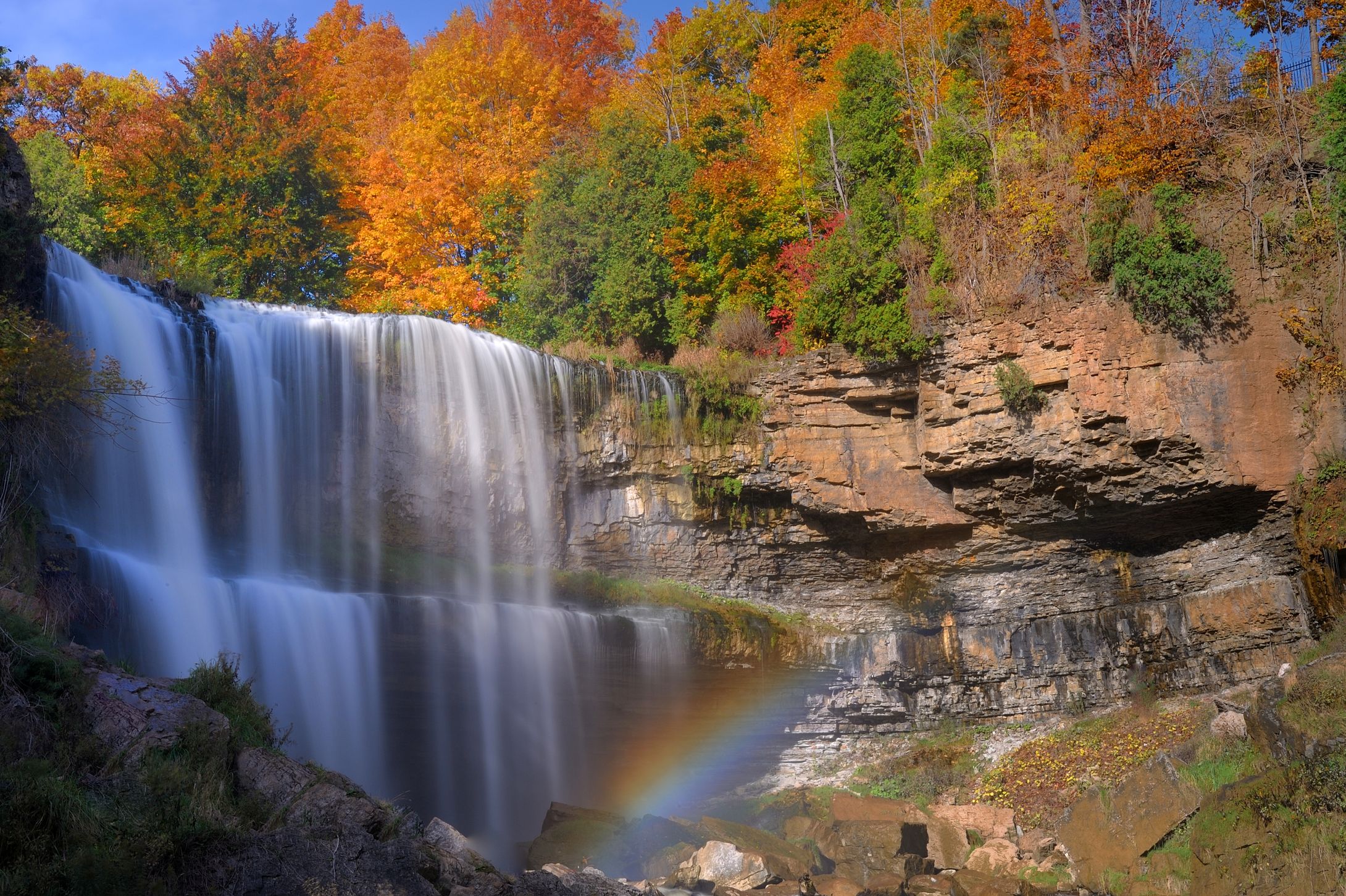 Drive from Toronto: 1hr
Duration of trip: 1 day
Best season to visit: Summer and Fall
Located an hour outside Toronto, you'll find more than 100 waterfalls in Hamilton, Ontario (like Albion Falls pictured above). The region offers a network of parks and hiking trails, so you can experience the thundering beauty of these waterfalls up close.
Hamilton is also surrounded by picturesque towns, which you can access via Snake Road, providing an opportunity for scenic drives in Hamilton. This winding, tree-lined street begins in nearby Burlington and leads you straight into Waterdown. Stop in for a latte at one of the caf´es there, or visit the gourmet shops in Dundas, just a 10-minute drive away.
LIKE THIS ARTICLE?
Subscribe & get more from Onlia
Sign up for our newsletter and get our best stories delivered to your inbox.
Wine tasting in Prince Edward County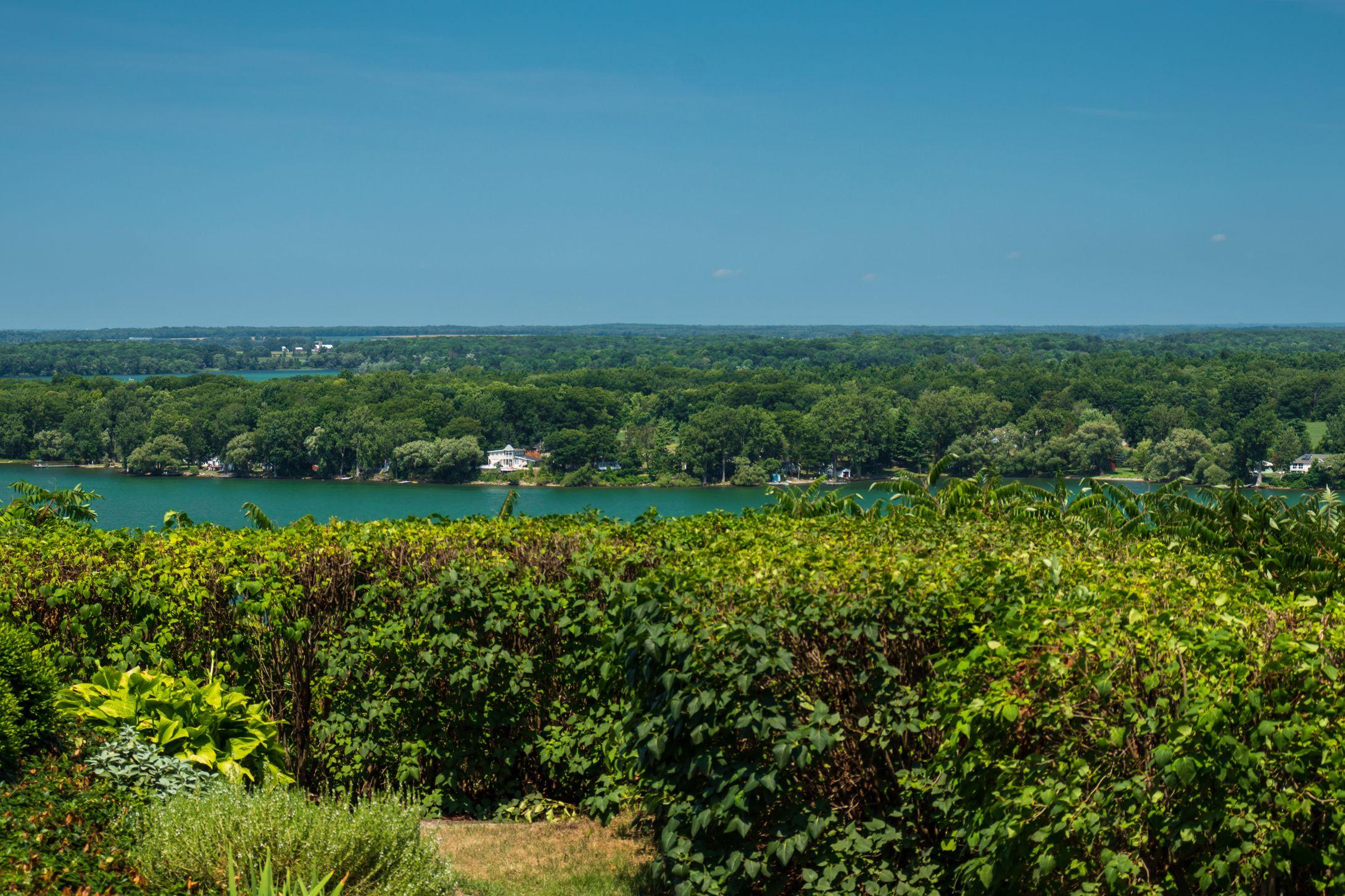 Drive from Toronto: 3hr
Duration of trip: 1-2 days
Best season to visit: Summer
Love wine? Rather than heading to Niagara, drive east instead. Prince Edward County is one of the country's top destinations for wine tasting, and also happens to be one of Ontario's prettiest regions.
Gorgeous vineyards intersect with stunning beaches, while tree-canopied roads are sure to delight any nature-lover. While you're there, be sure to visit one of their many restaurants by the lake and enjoy the picturesque view overlooking the water.
Although you can easily travel to PEC and back in a day, break up your road trip with an overnight stay. Why not book a small cottage along the Bay of Quinte? For a more cost-effective option, try car camping at Sandbanks instead.
Oxford County Cheese Trail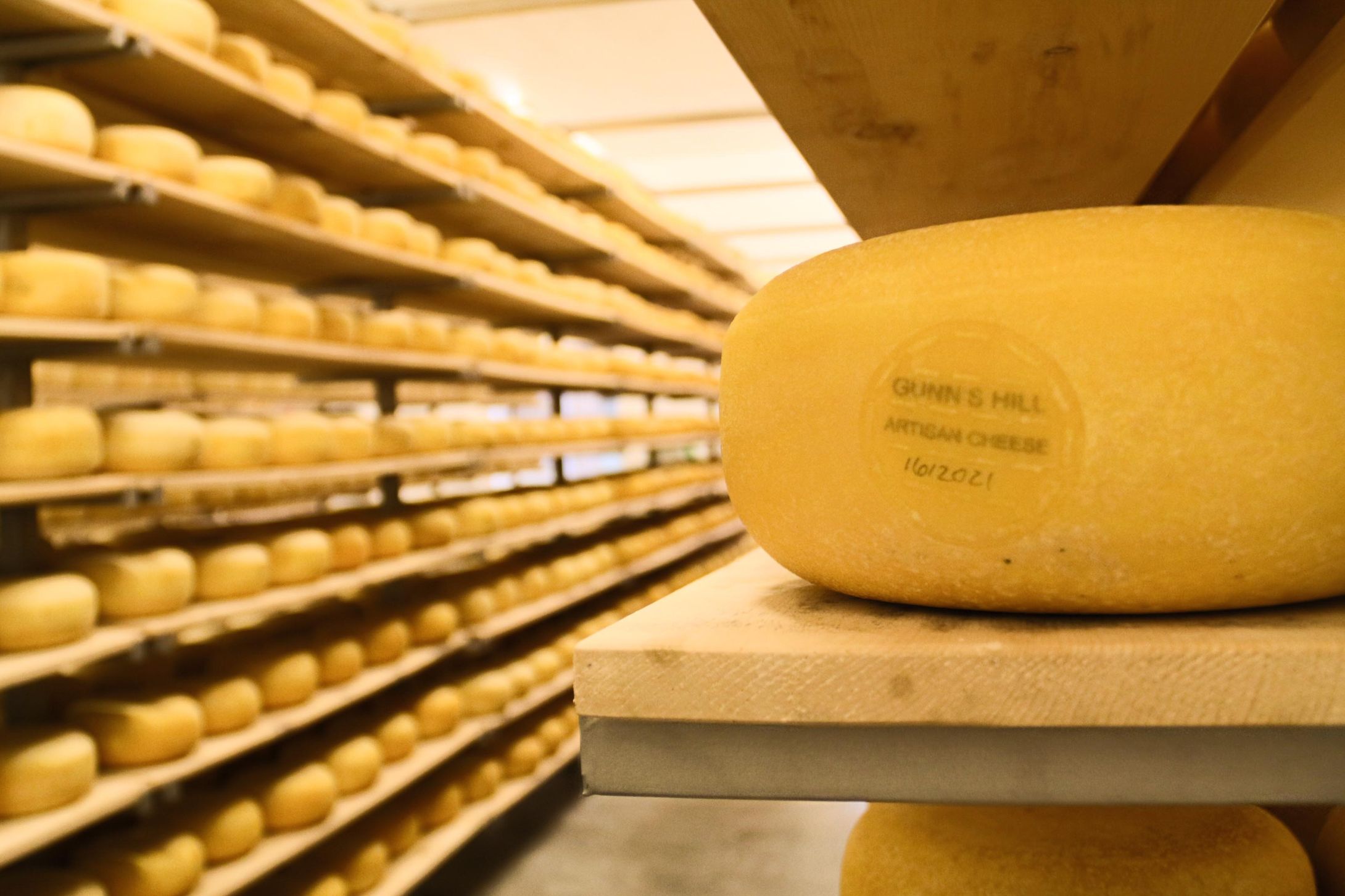 Source: The Foodie's Guide to Oxford County Cheese Trail (Chic Darling)
Drive from Toronto: 2hr
Duration of trip: 1 day
Best season to visit: Summer
There's nothing like professing your love for cheese on an open road through the countryside — right?
Oxford County's official Cheese Trail features 8 companies showcasing their high-quality goods and offering free samples too. Because you can pick and choose your stops, this cheese-tasting journey can last anywhere from a few hours to several days.
Not a huge cheese fan? No problem. There are other dairy vendors you can visit and sample. Not only that, but you can also still enjoy a scenic drive through Ontario's famous agricultural landscape. You'll also discover local artisans and taste some other culinary delights along the way.
Caledon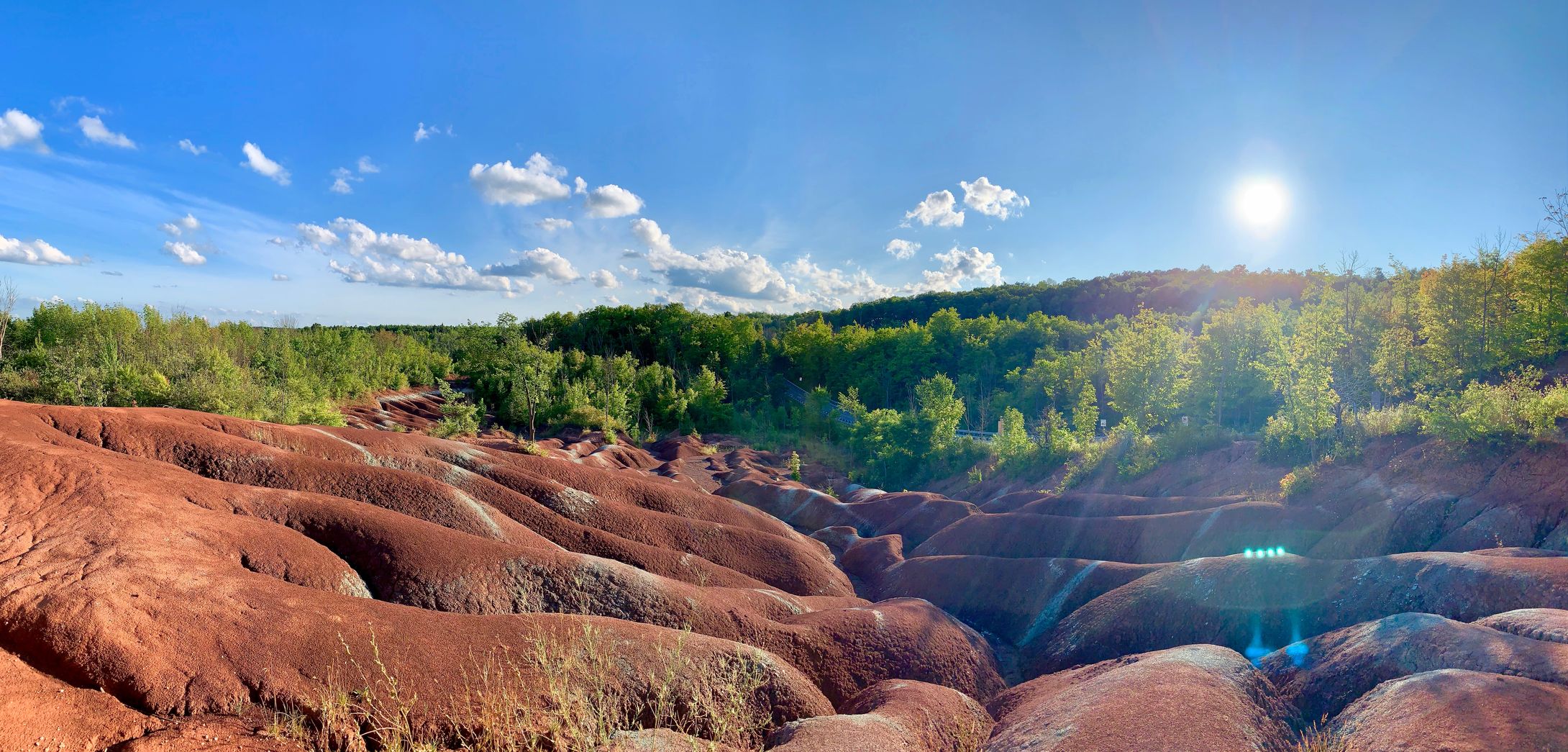 Drive from Toronto: 1hr
Duration of trip: 1 day
Best season to visit: Summer
Rolling hills and wide country roads make Caledon a pleasant driving destination. You'll also love the nearby conservation areas, perfect for hikes and birdwatching. Less than an hour from Toronto, Caledon is an easy day trip both parents and children will love.
Be sure to visit the famous Cheltenham Badlands, which feature breathtaking views of exposed Queenston Shale. This is a great opportunity for kids to learn about geological formations, and they'll be taken aback by the stunning red of exposed shale.
If you love to fish, try catching some salmon or pike in the Humber River nearby. You'll also find beautiful spaces along the water for a light picnic and leisurely stroll. And no trip to Caledon is complete without a visit to the ice cream shop on the town's main strip!
Before starting your trip, review your car insurance policy and coverage to ensure that you are well protected for any situation.
Looking for car insurance before you set out on your next adventure? Get a quote in minutes from Onlia, and be covered as soon as the next day.