Winter Tires 101
Winter is here! Position yourself for winter driving success with this handy guide to winter tires.
Winter is officially here! With the classic Canadian cold winter months comes the need to safely navigate snowy and icy roads. Chat with any winter driver in Ontario, and they will have a story about narrowly escaping disaster as a result of extreme weather conditions. After all, road conditions in cold weather contribute to approximately
12% of traffic fatalities and injuries in Canada
. While winter tires may seem like a no-brainer, only
68% of drivers in Ontario
report using them.
Winter tires play a significant role in protecting road users during the cold months, including improving traction and control in frost, snow and icy conditions, and shortening breaking distance by up to 25%. Winter tires can also provide up to 50% more traction than all-season tires. Overall, this leads to a measurable decrease in collisions, injuries and fatalities during winter months.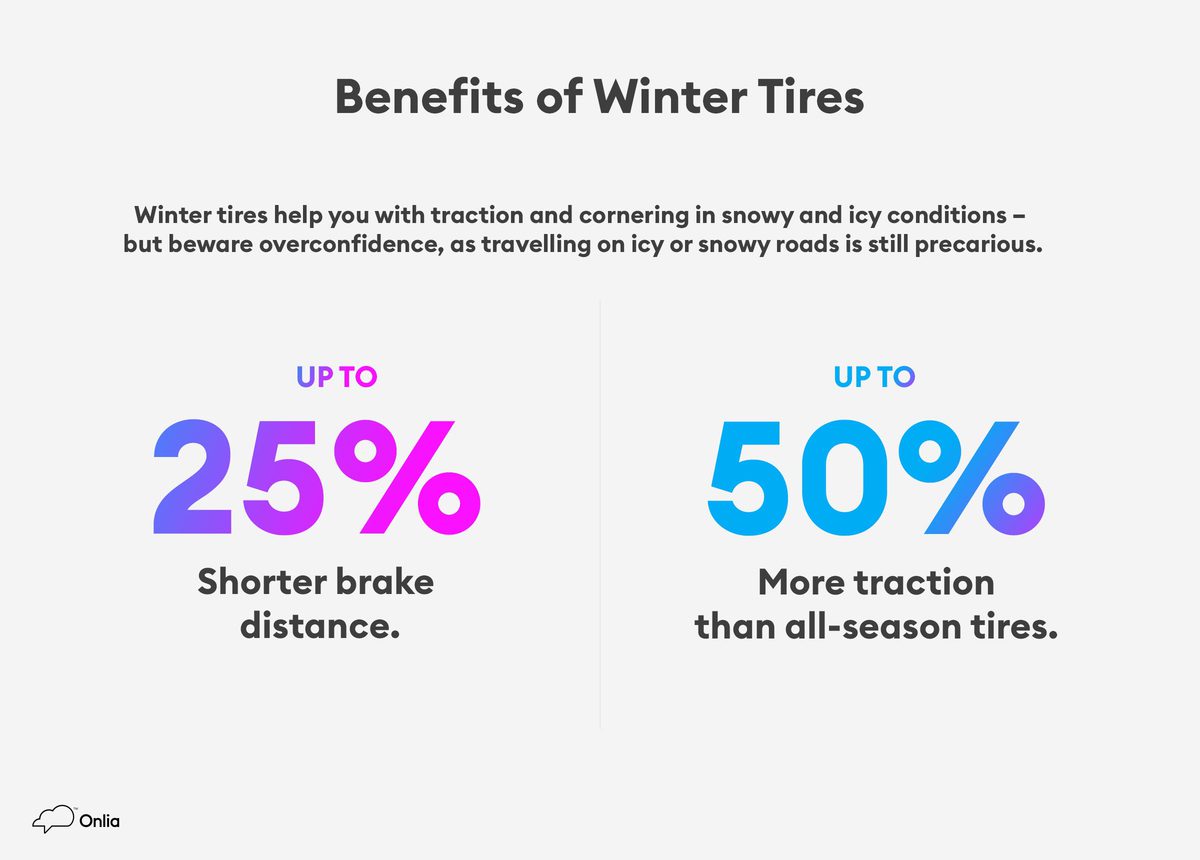 As of January 1, 2016 all Ontario insurance providers were mandated by the Government of Ontario to offer reduced auto insurance premiums to drivers who have four winter tires installed on their family vehicles. That's a win-win if you ask us!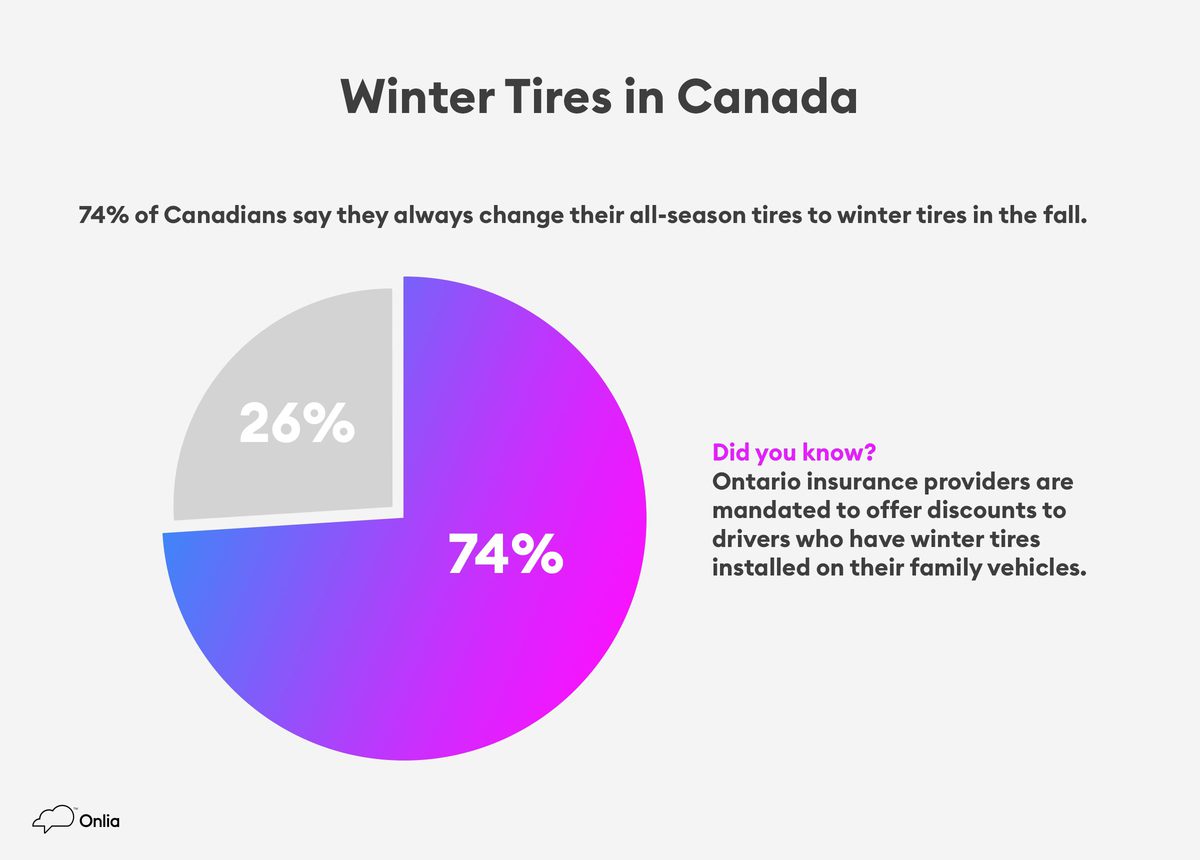 This year, give the winter warrior within you some extra help by investing in a high quality set of winter tires. We've put together some handy tips to help guide you.
Look for the three-peak mountain snowflake
The easiest way to identify a winter tire is by the simple three-peak mountain snowflake symbol that is clearly marked on the tread. When you identify a tire with this pictograph, this means that the tire has met the snow traction performance requirements set by the Rubber Association of Canada, and is specifically designed for use in cold weather and severe snow conditions.
Install four tires, and don't mix tread types
It's important to install winter tires on both the front and back axle of your vehicle. Installing winter tires on just the front axle can result in oversteer, meaning that only the tires in the front of your car will grip well. Similarly, only installing winter tires on the real axle can result in understeer. Either scenario can result in a total loss of control of the vehicle, particularly in a cornering situation. Equal traction on the front and rear tires is critical to the successful functioning of winter tires.
Know when to install your tires
The rubber used for winter tires is specifically effective during temperatures colder than 7 degrees Celsius. This comes down to some simple facts about rubber. Below 7 degrees Celsius, the rubber used on all-season tires starts to get hard, decreasing traction and lowering effectiveness. This is when winter tires kick in and do their best work.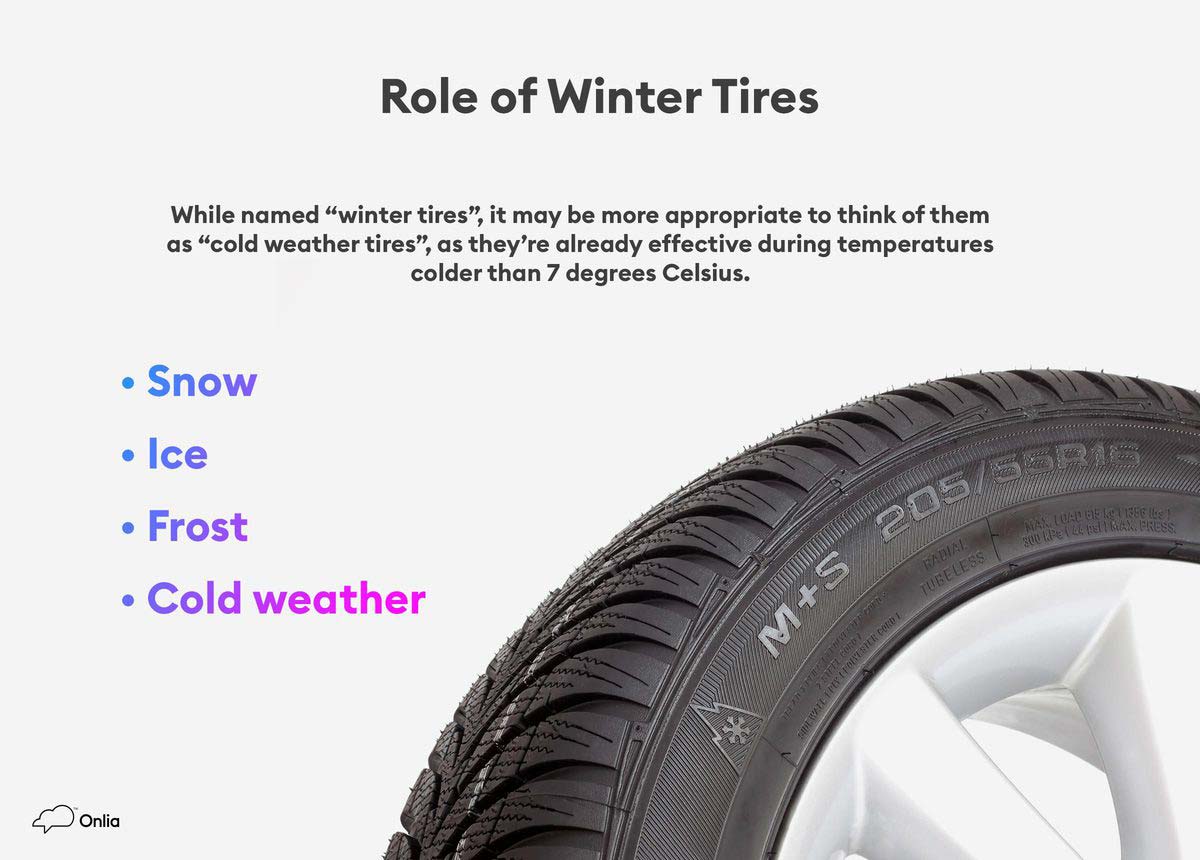 Keep an eye on tire pressure
Did you know that for every 5 degree Celsius change in temperature, your tire pressure can change 1 to 2 psi? Proper tire inflation is not only critical to the proper functioning of the tire, but it can also extend the life of your tires, decrease stopping distances, increase fuel economy, and improve overall vehicle handling.
Know when to replace your winter tires
Tires are really only as effective as their tread. From 50 to 75 percent wear, stopping distance increased from 3-5 metres in length. That can be significant when you're in the midst of congested a snowy road. For reliable braking and cornering performance on snow and ice, KalTire recommends replacing winter tires when they're approximately half worn.
Remember, winter tires will not make you invincible
With all these handy statistics that support the benefits of having winter tires, it's important to remember that safe driving starts with you. Winter tires can help you with traction and cornering in snowy and icy conditions – but beware overconfidence, as travelling on icy or snowy roads is still precarious, even with winter tires. Drive slowly, take caution, and remember that winter tires are an aid, not a cure, for driving in cold weather conditions.
Will you be installing winter tires this season? Tweet us your reasons for making the switch @OnliaCA #OnliaCA.
LIKE THIS ARTICLE?
Subscribe & get more from Onlia
Sign up for our newsletter and get our best stories delivered to your inbox.