Under
Section 99 of the Ontario Condominium Act
, a condo corporation is required to obtain and maintain insurance for both itself and on behalf of the unit owners against major perils such as:
Fire
Lightning
Smoke
Windstorm
Hail
Explosion
Water escape
Strikes, riots or civil commotion
Impact by aircraft or vehicles
Vandalism or malicious acts
Any other event specified in the condo corporation's declaration or by-laws

While it seems like quite an exhaustive list, it doesn't even come close to what could actually happen in a condo.

Consider a scenario where your upstairs neighbour fell asleep with the bath running and flooded your apartment.

Or what about if a guest slips on the ice outside the front door of your building, sues the condo corporation and is awarded a settlement that goes beyond what the condo board's insurance is authorized to pay out?

In the first case, the condo corp's insurance won't cover the cost because the damaged property isn't a common area, nor was the damage caused by one of the perils their policy most likely covers.

In the second case, each owner would be responsible for an equal share of the difference.

Without home or condo insurance, the money to pay for each is coming out of your pocket. With home or condo insurance, you're sleeping easy knowing your costs are covered (minus your deductible).

And with the right home or condo insurance policy, the coverage would include living costs if you have to move out and replacement costs for damaged floors, furniture and anything else you may have lost. It could also include funds to retain a lawyer if a suit is brought against you or you have to bring a suit to someone.

But more than any of that is this truth:

The likelihood of an upstairs flood or slip and fall happening rests on the flip of a coin. Either could happen tomorrow, and you could be negatively affected whether you were in the country or not, much less the building.

For these reasons, it's a good idea to understand the ins and outs of what condo insurance covers.
First things first: condo insurance vs. home insurance
All condo insurance is home insurance, but not all home insurance is condo insurance.

A home insurance policy on a house or town home will cover most if not all of what a condo insurance policy covers, and will also cover the exterior of the structure and the rest of the property. The comprehensiveness of this coverage is reflected in the price.

Condo owners insurance doesn't need to be that comprehensive because the condo board's insurance policy (which they're mandated to carry) covers the exterior and the property.

As a condo owner, you're more than welcome to get yourself a regular home insurance policy, but you'd be overpaying. A condo insurance policy makes the most sense.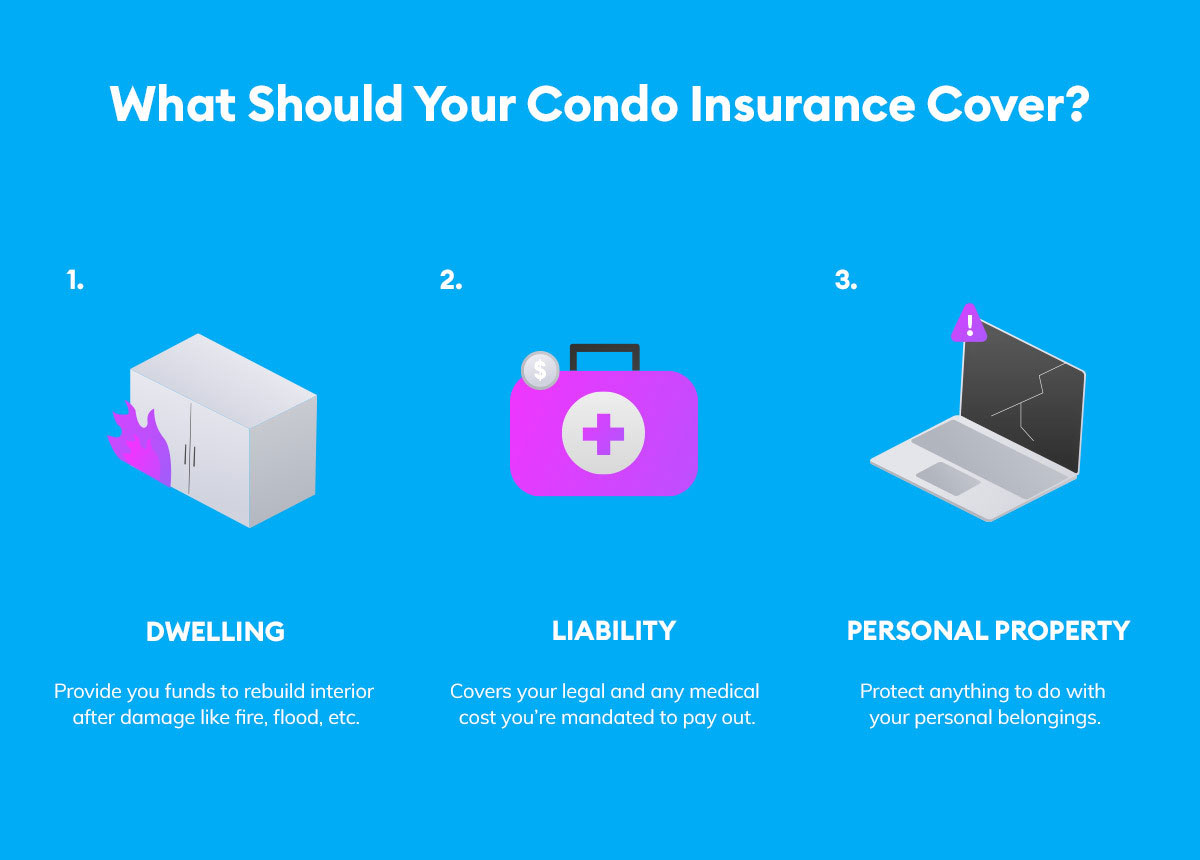 Condo insurance explained: what does condo insurance cover?
Insurance providers offer two types of condo insurance: one for owners and one for condo corporations.
Policies for corporations typically cover the exterior of the building, the inner workings (like elevators and HVAC) and common or shared areas like hallways and pools. In some cases, the corporation's policy — also called the master policy — is extended to cover elements of the individual suites like ceilings, floors and walls.
Condo owners insurance offers protection against the cost of damages within the policyholder's personal space and can protect them against surprise special assessments and unforeseen legal costs.
A quality condo insurance policy will cover:
Dwelling
This feature of your condo insurance policy will provide you with the funds to rebuild the interior after damage: putting in a new kitchen island, replacing cabinetry after a fire, replacing floors after a flood, etc.
Liability
If someone is injured in your suite and subsequently sues you, this covers your legal costs and any medical fees you are mandated to pay. It also covers any damage you may do to someone else's property, like if you were the one who fell asleep with the bath running.
Personal Property
Nothing in the master policy will protect anything to do with your personal belongings in the condo, even if the building is picked up by a tornado and thrown across town. This element of your condo home insurance will cover the costs of repairing and replacing furniture, clothing, kitchenware, musical instruments, computers, phones and tablets, TVs, gaming devices, bicycles, sporting gear, jewelry and more.
Loss assessment coverage for condo owners
Your condo insurance special assessment coverage is known as loss assessment coverage. It's usually offered as an optional addition to a condo insurance policy and is one hundred percent worth considering because it addresses a massive risk of condominium ownership: special assessments.
Coming home to an official letter in your mailbox informing you of your obligation to come up with $35,000 in two weeks or risk losing your condo is not the best way to end a long day at work. But it can happen that quickly.
Having condominium assessment insurance gives you the comfort of knowing that any special assessment levied by your condo corporation against you for any reason will be covered. Those reasons can range from the slip-and-fall scenario mentioned earlier to unexpected required renovations.