Winter Driving 101
We share our best advice for driving in Canadian winters.
Frigid temperatures. Snow. Ice. Freezing rain. Canadian winter conditions make driving a challenge, especially for new drivers and new Ontarians unaccustomed to our northern climate.

However, the
Onlia Winter Safety Index
, a recent study conducted by Angus Reid, found that most Ontario drivers surveyed are ready for the 2020/21 winter driving season. Almost 90% said they were mostly prepared and 52% reported being completely set.
But even the most experienced drivers can be caught off guard by winter. Every year, there's a spike in collisions when winter weather comes blowing through. During the first winter snowfall of 2016, the city of Toronto saw more than 500 crashes in 24 hours!
While your safety is the top priority, the prospect of getting in an accident, no matter how minor, has insurance implications, too. If you make a claim for a collision for which you're considered at-fault, your insurance premium could go up. And if you make numerous claims over a few years, no matter who's to blame, insurance providers will consider you higher risk and charge higher premiums — they could even refuse to take you on as a customer.
These are just some of the good reasons to "master" winter driving. And we're here to help you get there. Whether you're new to winter driving or are looking for winter driving tips to improve your skills behind the wheel, here's what you need to know to get around safely during our coldest months.
Get winter tires
Our survey found that 76% of drivers planned to put winter tires on their cars in 2020. Smart move: winter tires can play a huge role in protecting drivers during snowy and icy conditions. When you swap your all-season tires for winter tires, you can benefit from:
Up to 50% more traction
Increased control on slippery roads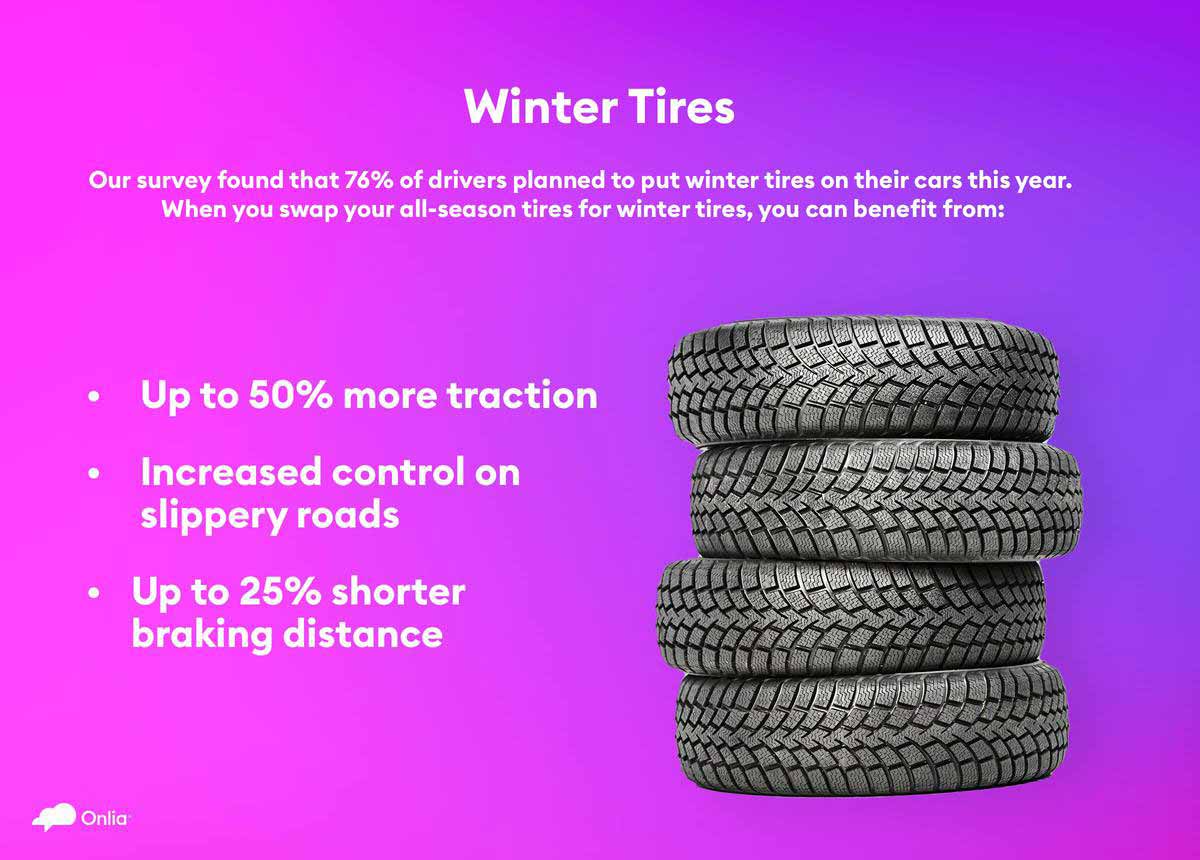 When vehicles are outfitted with winter tires, there is a measurable decrease in collisions, injuries and fatalities during winter months.

Want another great reason to invest in winter tires? You'll save money on car insurance. All Ontario insurance providers are required to offer reduced auto insurance premiums to drivers who have four winter tires installed on their family vehicles.

For information on what to look for, how and when to install winter tires and more, check out Winter Tires 101.
Prepare your vehicle for winter
You need to think about more than just tires as the weather turns brisk. There are lots of other parts of your vehicle that could benefit from extra winter attention. Plan to:
Ensure your windshield wiper blades are high-quality and in good working order.
Be sure your windshield washer fluid is always topped up — you'll need to clear your windshield often when driving in slushy weather.
Lubricate your vehicle's locks, latches and doors with WD-40 to reduce the chance of them getting stuck in frigid weather.
Have an ice scraper/snow brush in the car at all times so you can de-ice your windshield.
Stock your trunk with a winter car emergency kit. Our survey found that only 62% of drivers planned to ensure jumper cables were at the ready in their vehicle; 58% were stowing extra winter clothing and blankets; and only 42% were including a shovel. The more prepared you are, the less likely you'll have a dangerous experience on the roads in winter weather.
It's important to safeguard your vehicle from winter elements so that it performs well when you need it. Here are some things to consider when it comes to winter car maintenance:
If you park outdoors in a part of the province that sees extremely low temperatures, buy a block heater or electric engine blanket to protect your engine from icing over. You can also get a similar product for your car battery.
In icy weather or before a storm, raise your wiper blades so they don't freeze to the windshield. It'll be easier to remove snow and ice. Some people put old socks on them to prevent ice buildup!
Protect your vehicle from the corrosive properties of road salt by waxing your car before the deep freeze of winter begins. Do an extra good job on the front grille and behind the wheels, where salt can build up.
Wash your vehicle every couple of weeks throughout winter to keep salt and other debris from building up. Clean your windshield with a thin layer of shaving cream, which has the same active ingredient as a defogger!
Be sure your tires are as inflated as they should be. Measure tire pressure with a gauge and fill with air, as necessary.
Staying safe on the road: Winter driving tips
When driving in the winter you should be aware of some of the hazards you could encounter when traveling through conditions like freezing rain and icy/snowy roads. Here are some winter driving hacks that work:
Clear your vehicle of snow and ice.
Part of winter driving is removing snow or ice from your car that could obstruct your view — or fly off and get in the way of other drivers. Here's how to ensure your safety every time you get in the car:
Wear heavy-duty winter gloves to protect your hands from cold and frostbite. You're more likely to detailed job if your fingers aren't freezing.
Start your car and set the heater to defrost. As the car heats up, it will help you de-ice the windshield by gently melting it.
Use the brush end of your ice scraper to sweep off any loose snow from your vehicle, including from all windows, the hood, trunk, headlights, tail lights and roof.
If there is a build-up of frost or ice, use the scraping end of your ice scraper to dig it off your windshield, side and back windows.
Consider buying a commercial de-icing spray from a store like Canadian Tire or Home Hardware. It'll help defrost your windshield and doors in minutes.

Driving behind a snow plow. Snow plows, salt trucks and other maintenance vehicles are usually out in full force when snow and freezing rain are falling. Here's how to share the road with them safely:
Keep a safe distance to prevent snow, salt or debris from flying onto your windshield.
Give yourself extra time. Snow plows intentionally travel at a lower speed to ensure a thorough job. Passing a snow plow is a bad idea; your vehicle could get caught in snow travelling between plows.

Driving safely in freezing rain. One of the most dangerous hazards of winter driving is freezing rain. Here's how to stay safe on the road when it's icy:
Slow down and try to drive in the tracks of other drivers.
If you need to change lanes, avoid accelerating rapidly. If your wheels spin faster, they could lose traction and slide.
Leave extra distance between you and other vehicles on the road to avoid colliding if you (or they) go sliding.
Avoid braking if your vehicle starts to slip on ice. Try to stay calm and gently turn into the slide. Abrupt braking and jerking the wheel will make things worse.

Breaking down on the side of the road. Whether you run out of gas or have a mechanical problem, if your vehicle gives out when you're on the road in winter, you need to take extra safety precautions.
Immediately put on your hazard lights and pull onto the shoulder of the road, if you can do so safely.
If you feel equipped to possibly solve the problem by looking under the hood, exit your vehicle very carefully, from the side away from traffic. Watch carefully for oncoming traffic before stepping out. Don't stand directly in front of or behind your vehicle. You could be hit by another driver who doesn't see you.
If you need help from a professional, assess where you are and call the local police or your roadside assistance plan, if you have one. They'll tell you what to do next.
While you wait for help, it's a good idea to contact a family member or friend to let them know where you are and what happened.
Getting into a collision on the road. If winter road conditions are bad enough, getting into an accident may be inevitable. Here's where your winter emergency kit will really come in handy, i.e. you'll be glad you have things like a flashlight, extra blankets, food and other items. Your first priority is to ensure everyone in your vehicle is okay. From there:
C

all 911 if anyone is injured or if you feel the collision requires emergency assistance. If it's not an emergency, call the local police to find out how to proceed. Either way, all accidents that result in property damage over $2,000 must be reported to the police.
Write down the details of the accident, such as how, when and where it happened. You might include how fast you were driving, the condition of the road, the date and the time.
If it's safe to do so, exit your vehicle from the side away from traffic. You can exchange basic information with the driver of the car with which you collided, including your names, driver's licence numbers, addresses, phone numbers, insurance and vehicle details.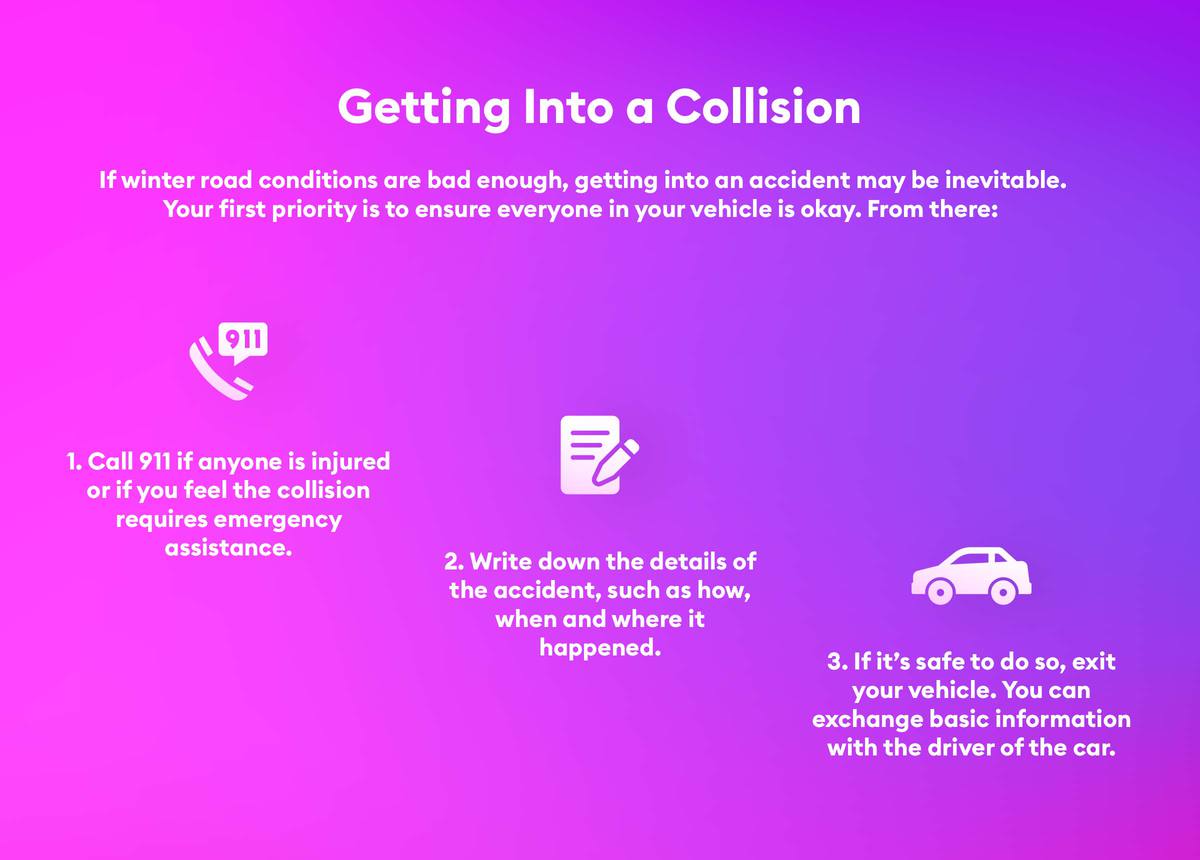 Wait for the police to arrive to instruct you on what to do next.
Winter driving isn't rocket science — the key is to be prepared. When your car is well-maintained and stocked with a car survival kit, you take the time to clear it of snow and ice every time you head out and you stay calm and focused on the road, you'll be miles ahead.
LIKE THIS ARTICLE?
Subscribe & get more from Onlia
Sign up for our newsletter and get our best stories delivered to your inbox.