Home, Condo, or Tenant Insurance: Which Is Right for You?
Not sure which insurance is best for you? We break them down to help you choose.
To have home insurance is to have the money to handle the unexpected, so you don't have to pay out of pocket. These situations could be as extreme as having to replace everything you own in this world after a fire, or as banal as having to defend yourself in court after your dog nips at one of your kids' friends during a playdate.
For these reasons (and so many more), insuring your abode is a good idea, regardless of how and who you're paying to live there.
Before you make your decision, understanding your options is critical so that you don't wind up with the wrong insurance and get left holding the bag.
Here, we'll review the benefits of the four main forms of property insurance: home,
mortgage
, condo and tenant.
Home insurance: The basics
In Ontario, you'll pay an average of $1,250/year for home insurance coverage.
While not mandatory, most mortgage providers like to see that you're insured before loaning money. The most well-known use of home insurance is covering the cost of damages to your home and whatever's in it.
Types of damage covered can vary based on your insurer and policy, but most policies will include payouts after damage caused by these "named perils":
Fire
Smoke
Water
Electricity
Wind
Explosion
Natural Disaster
Vandalism
Vehicle Impact
In these cases, your insurance policy will almost always cover emergency accommodations (like a hotel or Airbnb) if your home needs to be repaired.
The Insurance Bureau of Canada further explains that Home insurance will almost always provide financial recourse in the event of a robbery, either of what's inside your home or on your property. It will also provide personal liability coverage to you and your family if you're ever responsible for another person's property damage or injury.
How to secure home insurance
To maintain your policy, you pay a regular (usually monthly) fee called a premium.
If an incident covered by your policy occurs, you'll pay a small portion of the cost of damages, called a deductible.
Your insurance company then covers the rest up to a coverage limit – as in, they'll cover you up to a certain dollar amount.
You can decrease your premium by agreeing to a larger deductible or a lower coverage limit when you first buy insurance.
If the cost of damages is lower than your deductible, it's cheaper to repair or replace without using your policy.
That's it. Not that complicated, right?
It can, however, get a bit complicated when you look at the home insurance market because you'll find other sub-products with different benefits that are sold as home insurance.
In this article, we'll compare these with the basic home insurance you just learned about to help you figure out what you need for the home you're buying.
Home insurance vs. Mortgage insurance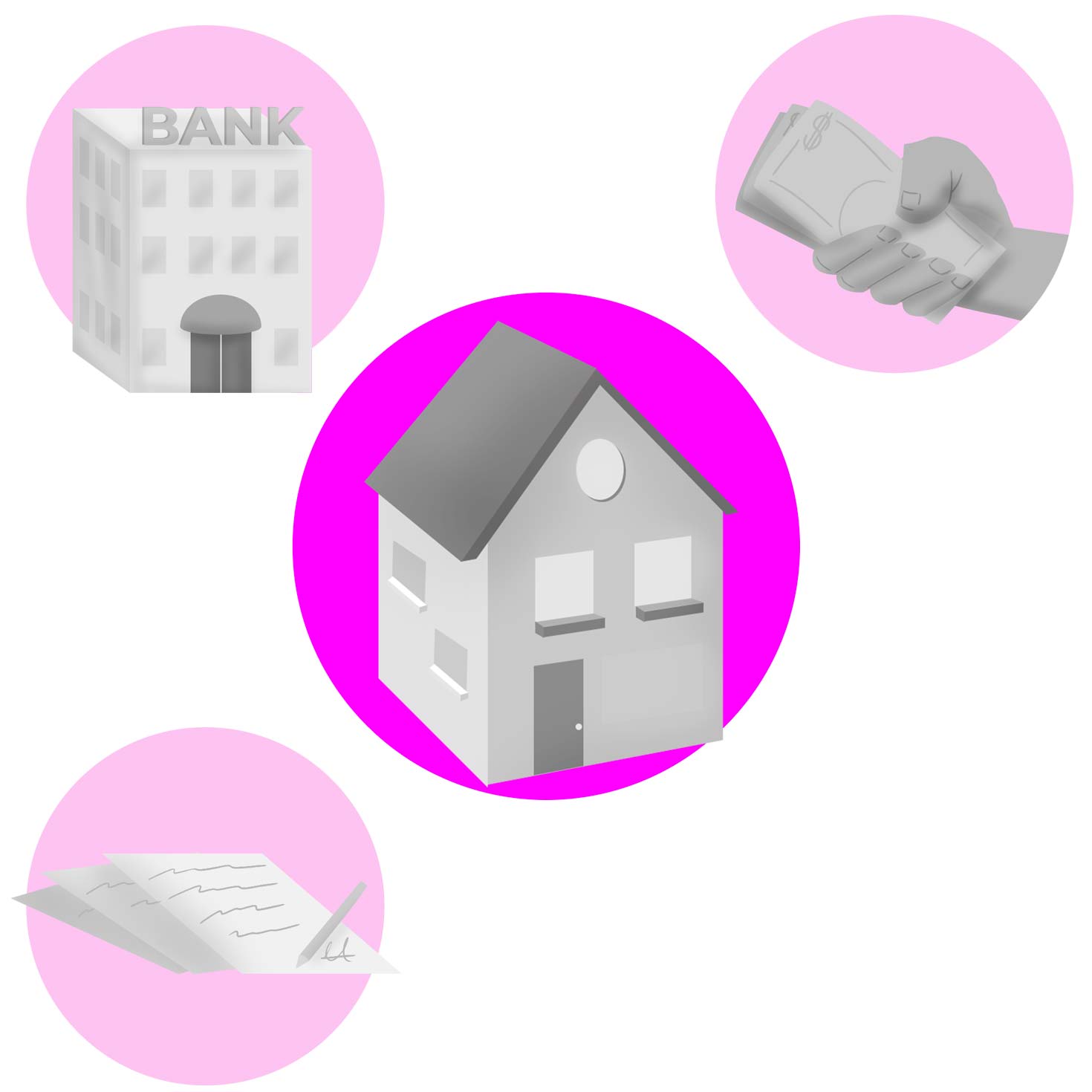 What is mortgage insurance?
Mortgage insurance is referred to by many names: mortgage loan insurance, mortgage default insurance and CMHC insurance. Regardless of what you call it, unlike home insurance, mortgage insurance doesn't exist to protect you. Instead, it's protection for whoever loaned you the money for your mortgage.
If you're unable to pay them in full, or you otherwise break your contract, they can foreclose and sell your home to get what they're owed. If they still haven't recovered the full value they contributed, mortgage default insurance covers the difference.
If mortgage insurance doesn't help you, why should you buy it?
The simplest reason is that your lender won't give you a mortgage without it. It's similar to how some (most) lenders want you to buy home insurance.
The more complex reason is that having mortgage insurance often lets you purchase a home even if you can't afford more than the required 5% down payment.
How mortgage insurance affects you
Your lender will look at the total price of the house you're buying and what percentage they're contributing. This determines two types of mortgages. If you're contributing 20% or more, this is considered a low-ratio mortgage and they likely won't require insurance. If you're contributing less than 20%, it's a high-ratio mortgage and they'll want insurance to cover the risk.
Another key difference from home insurance is how you end up paying for it. The price of mortgage insurance is often packaged into your mortgage. This means rather than covering these costs independently, they'll be included in your regular mortgage payment and will be affected by the same interest rate. The price of your insurance is based on the total price of the mortgage you're taking out, ranging from about 1.80% to 4.00%. To get the lower end of that spectrum, you'll need to make a larger initial down payment.
Do other types of mortgage insurance exist that benefit you?
Mortgage disability and critical illness insurance gives the sort of coverage you may have imagined when you first heard the term "mortgage insurance."
If you find yourself unable to make payments due to a serious illness, injury or sudden unemployment, this policy will cover you. Similarly, mortgage life insurance will pay off a mortgage up to a limit upon your death. Owning your home outright (or at least having a much smaller mortgage) will make it easier for your surviving family members to move on without you.
Learn more about home insurance vs. mortgage insurance.
Home insurance vs. Tenant insurance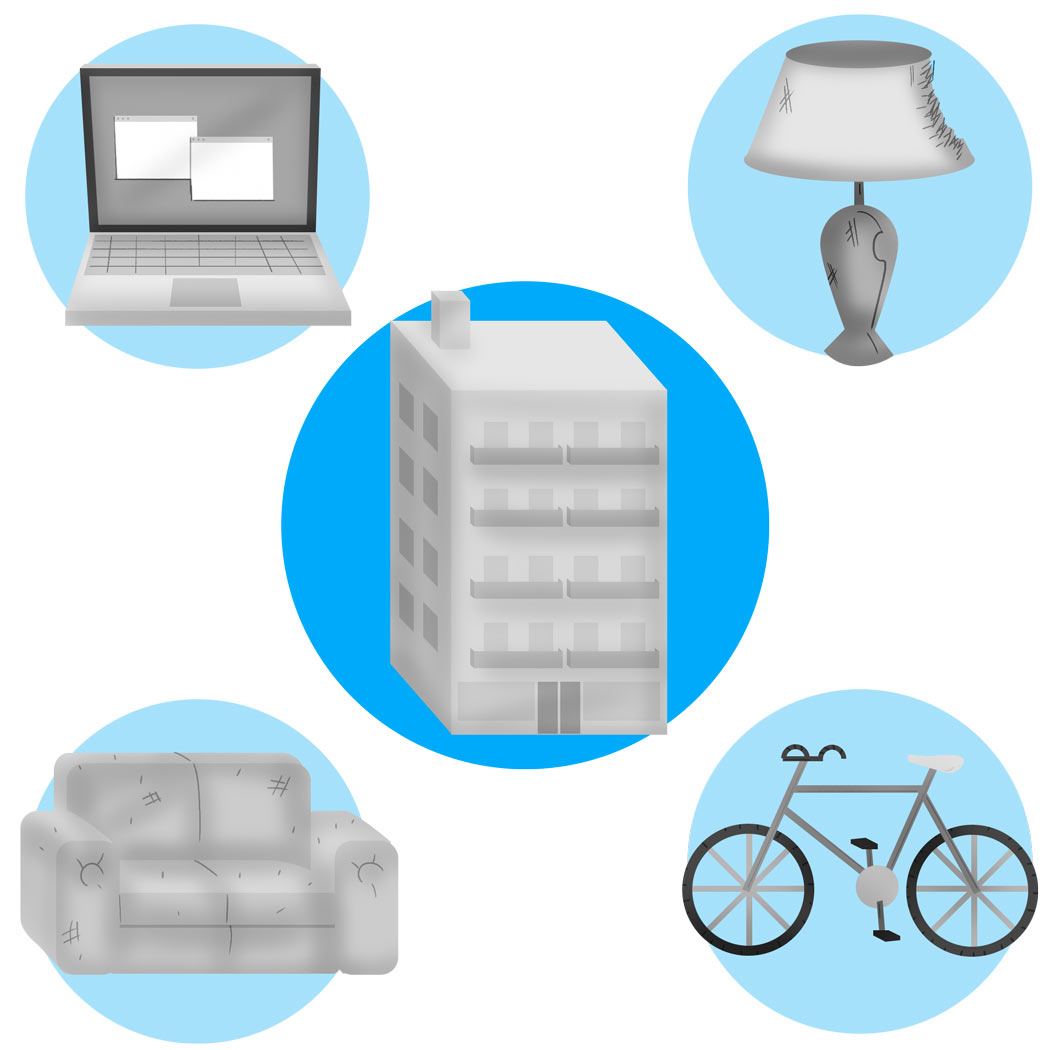 What is tenant insurance?
Tenant insurance is essentially home insurance for renters, and is often referred to as renter's insurance.
Tenant insurance is similar to homeowner's insurance in how it protects your belongings if they're stolen or destroyed; it also carries the same type of coverage for liability if you damage someone's property or cause accidental injury.
While your landlord most likely has their own home insurance on the home you live in — which will cover damage to the property itself — their coverage will not cover your possessions.
This means without tenant insurance, you aren't protected.
How it affects you
Say you forget to turn the stove off before leaving your apartment and you start a fire. Your landlord would have insurance that covers the damages to the building, but anything lost in the fire belonging to you or your neighbours would need to be covered by your respective tenant insurance policies. Financial recourse in this situation is itself worth the average cost of around $210/year.
But replacing your belongings is only one half of the benefit to tenant insurance.
While your landlord's insurance company will cover for damages, they'll want to know how the fire started. If the fire department traces the fire's origin back to your apartment — and if negligence can be proven — you can be held legally responsible by your landlord's insurance company. But if you have the right tenant insurance, you'll also be covered for liability. That money can be used for a legal defence, to pay for damages you caused and to counter potential lawsuits.
LIKE THIS ARTICLE?
Subscribe & get more from Onlia
Sign up for our newsletter and get our best stories delivered to your inbox.
Home insurance vs. Condo insurance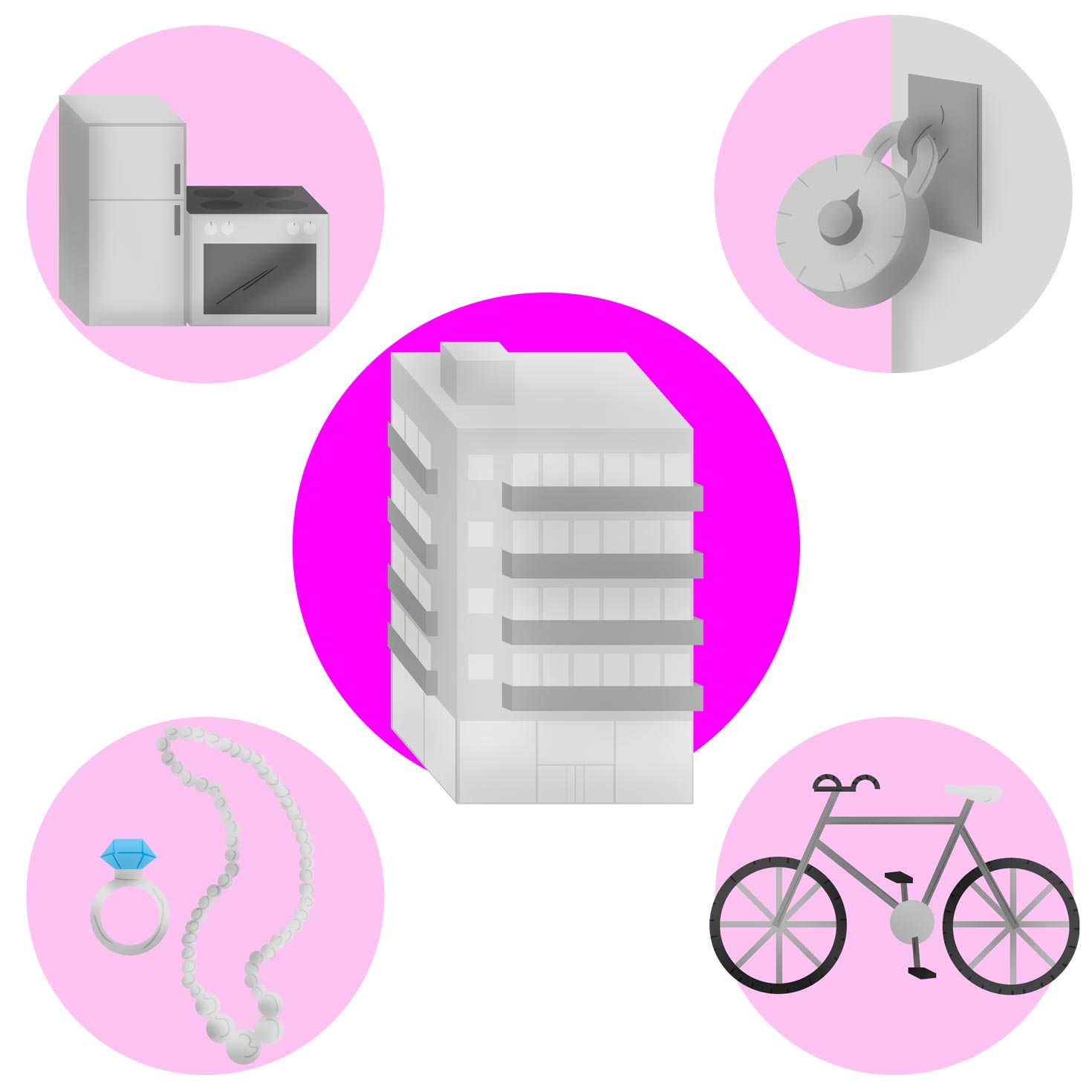 What is condo insurance?
Condo insurance is similar to tenant, in that it covers your possessions and offers liability protection if you injure someone or damage their property.
However, unlike tenant insurance, you actually own your living space, so condo insurance covers your unit in the same way home insurance covers a house – this means repair and replacement coverage if the inside of your unit is structurally damaged by any "named perils."
You can even cover a storage locker that comes with the condo if you ask your provider. Condo insurance also protects you from liability if the source of damage starts in your unit – in the same way home insurance protects you if a fire starts in your house and spreads to another.
Important differences between condo and home insurance
First off, some condo buildings split the cost of repairs or improvements in common areas. If your condo association operates this way, condo insurance will cover your portion of the costs if common areas are damaged or they add something that benefits the building, like a new carpet for the lobby.
You should also look out for "betterments and improvements" coverage. Say you decide to upgrade your personal condo space. Maybe you get brand-new countertops. What happens if your condo is damaged in a fire? Will your insurance company cover the cost of those new countertops, or will they only cover the original value of the condo? That's where betterments and improvements coverage helps; it ensures any improvements you or a previous owner made to the condo are included in the value of your coverage.
How much does condo insurance cost?
Condo associations have their own master insurance policy to cover the overall structure of the building, along with shared spaces like hallways and elevators. Ask to see what's already covered before you buy. In terms of price, condo insurance falls between renters and homeowners at an average of $345/year.
Home insurance vs. Property insurance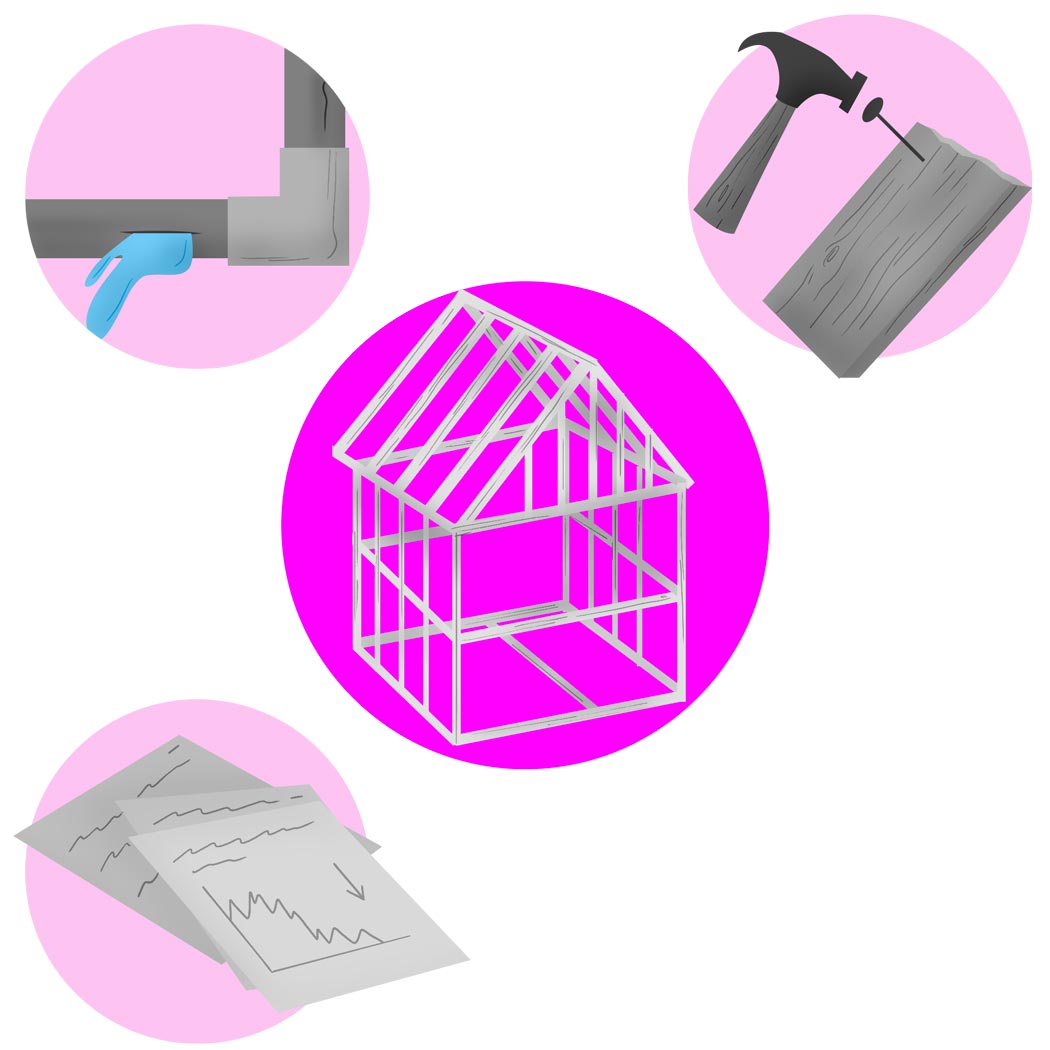 What is property insurance?
The good news is if you understand home, tenant and condo insurance, then you already understand this next one. They all fall under property insurance.
Property insurance is the overall term for what you're buying if you want to insure your living space. These policies break down into two main types of coverage: building insurance and content insurance. A policy does not need to include both, as is the case with tenant insurance.
Policies for things not included in basic coverage like flood or earthquake insurance are also considered types of property insurance.
How it affects you
Property insurance is a home-buying cost that varies based on what you're covering, and these factors can directly affect the price:
Age of your property
Size of your property
Condition of your property
Location of your property
Cost of replacing the building
Cost of replacing the contents
Different types of heating, plumbing, electrical and roofing
Changes made to your property during the policy
Your past insurance claims
When preparing to buy your first home, you should gather this information beforehand. Sometimes a property seems perfect when you first see it, but under the surface you find faulty wiring, sloppy renovation work or repairs that are long overdue.
Consider the roof on your new home. The most common roofing material in Canada is asphalt shingles. They should be replaced every 10 to 25 years depending on their condition. But what if the previous owners hadn't touched them in 30 years?
The average cost of a roof installation is $4,750. That's an additional cost you may not have budgeted for. And what if that faulty roof has been leaking? The upside is that your insurance company will likely find this during their property investigation; the downside is they won't cover pre-existing damage.
Best practice is to consider the asking price, as well as the type of mortgage and property insurance simultaneously when buying a new home.
Home insurance vs. Building insurance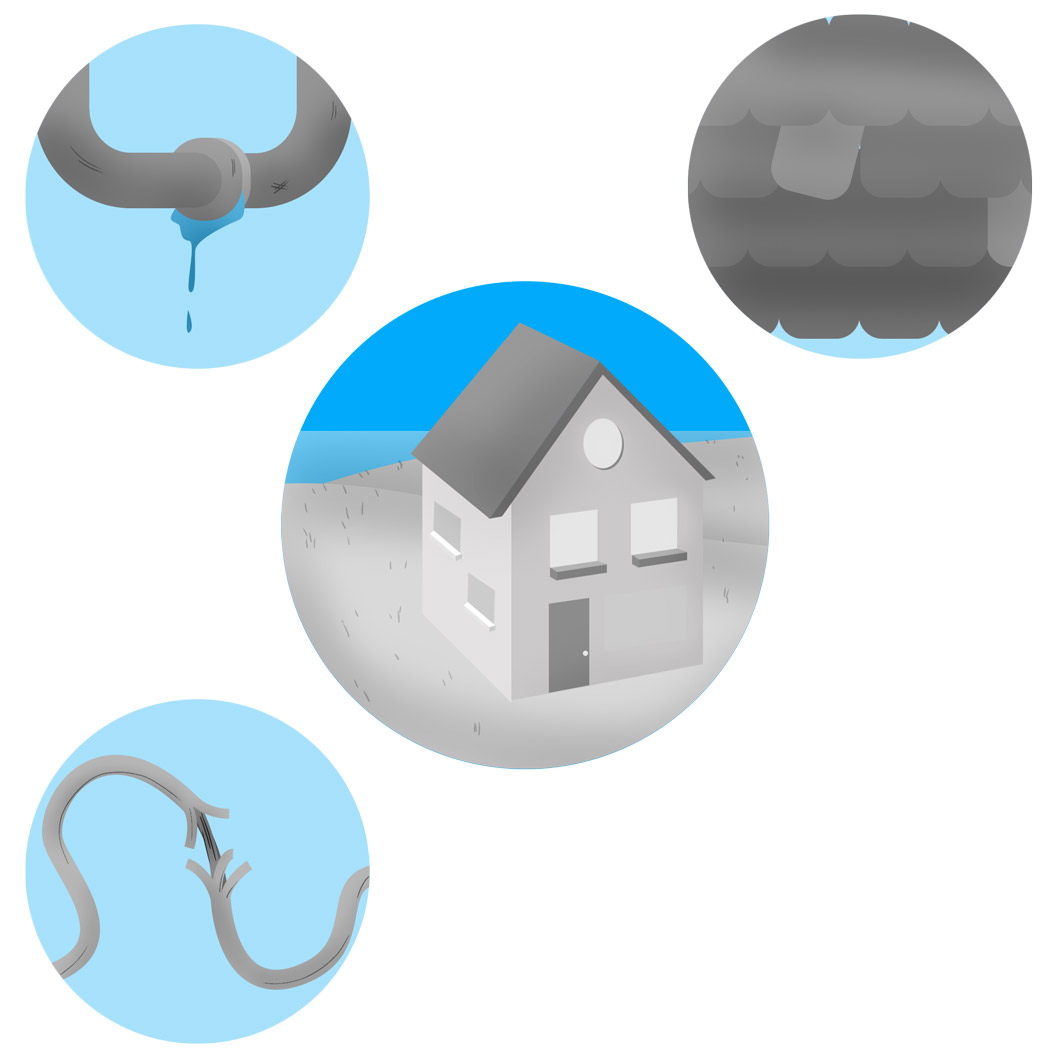 What is building insurance?
Building or dwelling insurance is any type of insurance that covers the actual structure of your home. This coverage falls within any home or condo policy. Think of it like this:
If you own the building or a unit within, then you need building insurance.
If you have a detached, semi-detached or row-house, then your homeowner's policy will contain building insurance.
If you own a condo unit, your condo policy will have building insurance.
If you are renting your living space, you don't need building insurance.
You'll also find building insurance in policies for owners of commercial or residential buildings. For your needs as a homebuyer, the most relevant type of building coverage – besides a home or condo policy – would be landlord insurance. The key difference here is that other people will be living on your property who won't be covered by your insurance.
How building insurance affects you
Maybe you're thinking about buying a larger building to live in, then renting out the other spaces. In this case, you become a landlord. People would live in the building and pay rent while maintaining their own tenant insurance.
If, one day, a pipe suddenly bursts and causes water damage – assuming the accident was not due to your negligence as a property owner – landlord building insurance will cover the repair costs. This includes individual units, common areas, hallways and detached spaces like garages or storage areas. Building insurance will also cover your personal possessions while the contents of your renters' apartments will fall under their own tenant insurance.
Additionally, if some of your renters need somewhere to stay while repairs are being done, landlord insurance will temporarily match your lost rental income.
Why is building insurance so expensive?
Building insurance covers the amount needed to completely rebuild a home. For this reason, it's pricier than policies that only cover possessions and liability. The size of your property directly affects your premium. Larger buildings have more area to damage and more places to get injured.
Consider an apartment with multiple entrances and a surrounding sidewalk. Like a house, the steps and walkways all need to be maintained year-round. If someone slips on ice, you'd be liable.
Home insurance vs. Content insurance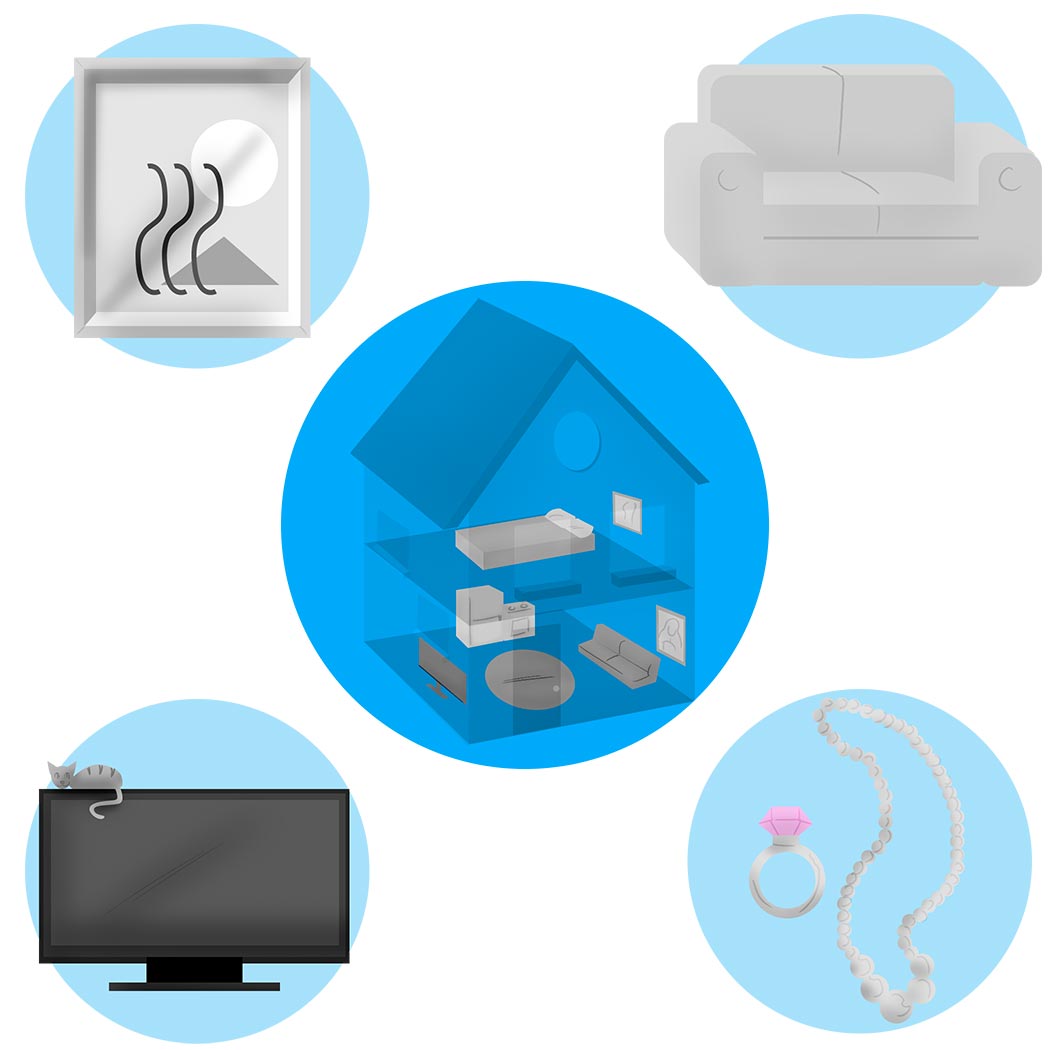 What is content insurance?
Content insurance covers your personal possessions – the contents of your home. You may also see it referred to as personal property insurance. This type of coverage is included in any basic homeowner's, tenant or condo insurance policy.
Content insurance will pay to replace damaged possessions up to a coverage limit. This limit can differ between insurers and the size of the plan you buy.
How content insurance affects you
The most important thing to understand when buying content insurance is how they'll value your possessions. This can be in one of two ways:
Actual cash value: They'll pay you the cost of replacing that same item based on used resale value. Due to depreciation, that table you bought ten years ago may be worth less now. These policies are cheaper.
Replacement cost: They'll pay you the cost of replacing your item with a new item of comparable quality. If you lost a ten-year-old table, you'll be able to buy a new table of the same material. These policies are pricier.
If you want to insure high-value items like jewellery, it may surpass your coverage limit. In this case, you can get extended coverage for an additional cost. This may require an appraisal of your item.
Content insurance only covers your possessions if they're lost or destroyed due to the "named perils" in your policy. This means if your house was damaged in an earthquake and you don't have earthquake coverage for your home, the furniture and items inside won't be covered either.
Know what insurance you need now?
Great! Get a quote today to be protected and feel secured about your living situation today, and into the future.