Come with us as we look back at 2020, and what we did during the year that won't be soon forgotten.
Insurance
More protection
In early 2020, we launched Onlia home insurance to expand the ways we can protect you. A lot of work and coordination between our teams went into the launch and fortunately, it was one of the (few) win we were able to celebrate in-person this year!
Along with homeowner insurance, we now offer coverage for condo owners and tenants. After all, most of what makes a home is what's in it — and we want to help protect it. With standout coverages to keep you protected no matter where you call home, we're here to help protect you no matter what life throws your way.
The launch of home insurance also meant the introduction of more discounts — you can save 20% on home and 10% on auto when you bundle — and more perks. We teamed up with Setter Inc. this year, a digital home safety service to provide new and existing customers who bundle their home and auto policies with free virtual home safety checkups. It's one more tool to help keep you safe at home.
A Premium Holiday
When the pandemic hit, it meant uncertainty for many. With businesses shutting down across the country to keep everyone safer, it was (and still is) a challenging time for our customers and community.
People were on the roads less throughout lockdown, and we wanted to acknowledge that customers weren't driving as often as they expected. To relieve some of the financial pressure caused by the pandemic, we waived insurance premiums for the month of May.
Onlia Insurance™ App
Updates & improvements
We welcomed almost 20,000 new users to the App this year, and we're over the moon that so many people have made the effort to drive safely. To keep drivers engaged and competitive, we introduced the Onlia Insurance™ app leaderboard and took badges to the next level.

Private leaderboards enable friends and families to test their driving skills amongst one another, and pushes drivers to keep working on their skills while having fun. A little friendly competition never hurt, and having the opportunity to level up your badges all the way to gold makes the Onlia Insurance™ app the one app you need to not only create safe-driving habits, but the tool you need to keep honing them, too.
More rewards for you
You spoke, and we listened. In 2020 we introduced brand-new rewards to the app to offer up some more variety for users. Cue: The Ultimate Dining Card. Redeemable at over 100 restaurant chains across Canada, there are delicious options for everyone. Plus, now there are more ways to win — summer kicked off new challenges giving you an extra chance to score dinner on us.
And some wins for us
Shout out to achieving a 4-star rating on the App Store and Google Play, and serving just under 60,000 users this year. Not to mention, more Onlia insurance customers are connecting with the app than ever, which means they can earn cashback rewards in addition to gift cards.
There's no better feeling than seeing drivers across Canada take safety to the next level — and getting rewarded while they do it.
Getting the word out
Don't skip the commercials
We put out 3 new spots this year sharing how safety obsessed we are, and how much you can save by switching to Onlia. We didn't let the challenges of production during COVID-19 stop the making of what we think are uber cool spots: quirky, safety-centric, and focused on how much safe drivers can save with us.
Check them out here (we promise you won't want to hit the skip button):
(Auto) showing off
Remember when attending conventions IRL were a thing? We were the title insurance provider for the 2020 International Auto Show, and teamed up with Young Drivers of Canada — the country's leading provider of driver education — to share and create positive change in an effort to redefine the way people think about safety.
Together we launched the "Play it Safe" trivia game to gamify road safety and reward patrons with instant cash prizes, gift cards, and the chance to win free Onlia insurance for a year.
The Onlia Cloud Car was on display for everyone to see, experience and capture for the 'gram. Since the show took place in February our team got to spend some face time with our favourite floof, and even had the chance to meet some of you!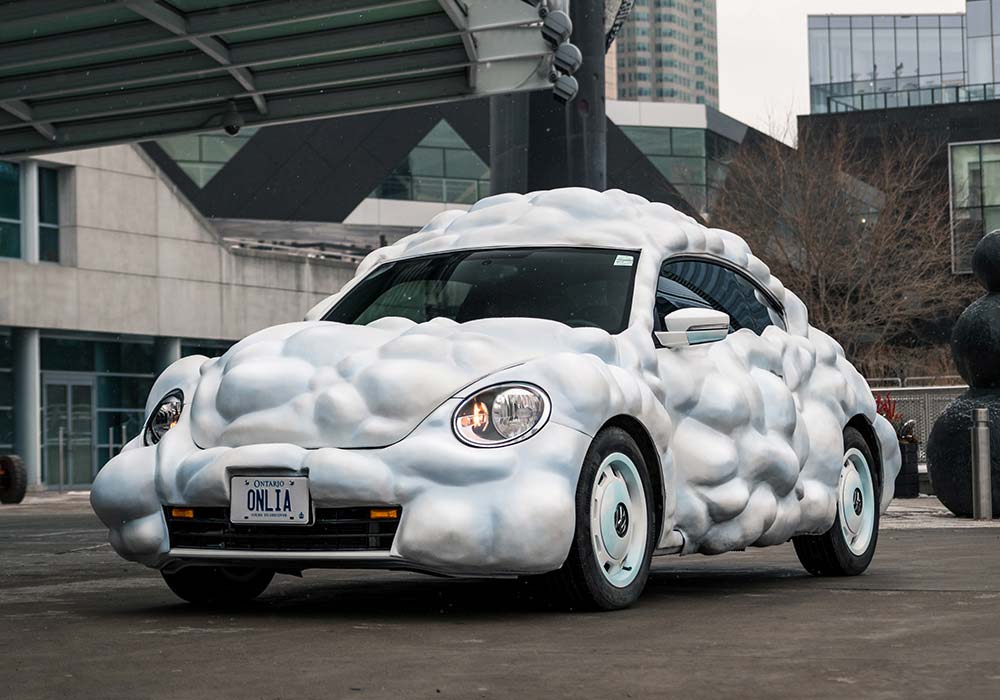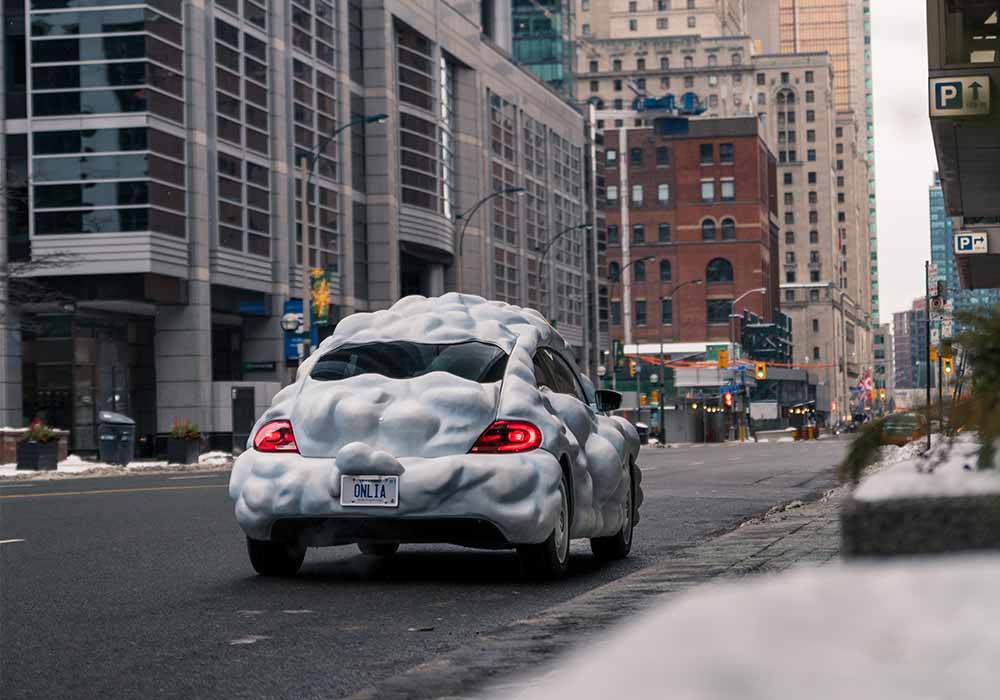 Social distancing in the sand
Summer's silver lining was that everyone was outside enjoying parks, paths and provincial beaches. People were eager to spend time outdoors were looking for different activities — wanting to escape the heat of the city, residents made public beaches the hot spots. However, issues of overcrowding and the lack of social distancing concerned municipalities about the safety and possible spread of COVID-19.
True to our mission, we wanted to share how to make being safe at the beach fun. We partnered with local sandcastle artists to create safety circles and sandcastles inspired by safety, while also promoting social distancing. Our sand structures created enough space for beachgoers to enjoy a little sand and sun while still keeping their distance, unlocking new and innovative ways to enjoy the summer.
In the news
Our second annual Onlia Winter Safety Index gave us some insights into what Canadians were thinking about going into the holidays. We found that as Ontarians prepare for the season amidst the new reality of COVID-19, many feel a false sense of security both on the road and at home. Driving under the influence and "porch piracy" were cited as main concerns, with many planning to stay close to home for the holiday season.
Onto the next
Reflecting on the past year is pretty crazy; so much happened that we never could've anticipated, but we're glad to be ending the year with a healthy team, a growing business, and happy customers. Keeping you protected is what drives us, now and always — so thank you for doing your part, and we hope you stay safe out there in 2021.
Cheers,
Team Onlia